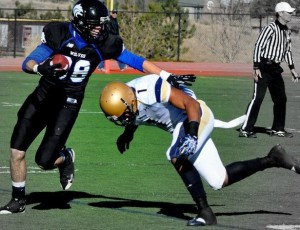 Tight end is a position that Coach Cutcliffe and Coach Middleton hope to develop into a consistent strength within the Duke offense. In the past few seasons, Duke has featured a dynamic group of tight ends, including Brett Huffman, Brandon King, and Cooper Helfet. The Blue Devils will add freshman David Reeves to the depth chart this fall, and are looking at several prospects in the class of 2012. Along with verbal commit Erich Schneider, Duke has offered top TE Evan Baylis. Baylis is a 6'6" 225 pound prospect from Aurora, Colorado. Highlights from his junior year can be viewed here.
BDN: Can you start off by describing your strengths for fans who haven't had a chance to see you play?
I guess I'd have to say my footwork and feet for how tall I am. And my aggressiveness, maybe.
BDN: What are some of the things you have been working on this offseason?
Putting on some weight, I've actually gained 20 pounds and just adding some strength and speed.
BDN: What are your goals for yourself and your team for your senior season?
I want to go as far as we can in the playoffs, maybe win state if we can. For myself, I want to try and get All-State, I got honorable mention last year.
BDN: As you look at your college decision, what are the most important factors you are looking for in a school?
I'm looking at the tradition of the school, how well I get along with the coaches and the coaching staff, the campus, and how they use the tight ends in their offense.
BDN: Do you have a preference for a specific type of offense?
No, not really.
BDN: Which schools have you been in contact with the longest or most often?
Probably CU, Boise State, Michigan, Oregon, and Stanford.
BDN: Have you had a chance to visit any schools this spring?
I've been able to get out to CU, CSU, Boise State, Michigan, Oregon, and Stanford.
BDN: Do you have any other visits planned for this spring or summer?
None are planned, but I'm definitely going to try and see some other colleges, I'm not quite sure yet.
BDN: Do you have an idea for when you would like to make your final decision or how you would like to narrow your list down?
I definitely am going to want to make it before my senior year, probably sometime in the summer.
BDN: Have any schools stood out to you at this point in the process, either on your visits or through your contact with the coaches?
On all my visits, I've gotten along with the coaches really well with everything they've shown me is great. They're all good choices and the coaches are all really nice, so it's tough to choose.
BDN: Thanks a lot, Evan, and best of luck to you.
Alright, thank you.