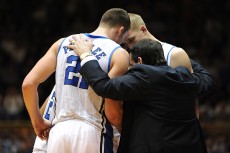 If you've been listening of late, Duke Coach Mike Krzyzewski has continued to say this years Duke squad is a work in progress and still coming together as a team.  There should be few doubters after Temple took it to the Blue Devils by a 78-73 score, dropping them to 12-2 on the season.  It was a night when only the Plumlee's seemed to show up on the offensive end where Mason and Miles combined for 33 points and 17 of the teams 29 rebounds.
The rest of the team was pretty flat and they never seemed to come up with the necessary intensity it takes to win a road game against a good, now 10-3 Temple team..  Just like in the loss to the Buckeyes, there were far too many players creating one on one situations on the offensive end which resulted in too many turnovers.  It was one of those nights when all the Duke players weaknesses were exploited at one time or another and their collective strengths seemed lost.
As long as Duke keeps having more turnovers than assists, the trend could continue, especially on the road where this seasons team has yet to prove itself.  It's no secret that Duke needs a leader to step up on the offensive end and get the players around him involved, but the players looked as it if they were standing around waiting for something to happen against the Owl's.  Even when a Duke player drove to the lane, the rest of the team seemed to just watch  instead of react.  Again, too much one on one.
Duke had trouble containing the dribble-drive offense and the mid range game of the Owl's three guard offense and that forced Krzyzewski to insert freshman Michael Gbinije which speaks to the lack defense from the teams guards.  If Gbinije can learn to bring the intensity consistently, he may be used more down the stretch in that he is skilled in many areas.  But the Duke defense is as much a work in progress as is the effort to find their offensive identity.
Somebody is going to have to run the ship and get the ball to teammates consistently come ACC play.  But more-so than the individual, the team needs to collectively show they can find open teammates.  With a somewhat weak league, there is no reason to not expect Duke to bounce back  Even if it weren't a down year for the ACC, history shows us that games like this one, St. John's and Georgetown and the like, often prove to be blips on the radar.  But opposing coaches will be looking at the two road losses as a blueprint for victory and that means work has to be done and quickly.
The disappointing loss will allow Coach Krzyzewski to most certainly get the teams attention and the flight back was likely productive in nature as he'll surely use this defeat as a learning tool.  If you have been around long enough you might even wonder if there is a method to the madness or that this loss can actually prove productive.  A loss for a young team finding it's chemistry and identity is a given, but had you rather have that loss now or in ACC play?
As said, this loss gets the teams attention as conference action rules the rest of the season where they face two road games at Georgia Tech and Clemson in their first three games with a home date with an upstart and ranked Virginia in between.  Expect Duke to be much better equipped to win those games after their loss to Temple in that every players weaknesses came to the top in that game and can now be dealt with.
But let's not forget the Blue Devils accomplishments to date either and how those have by no means gone away with the upset loss.  Duke enters ACC play with victories over Kansas, Michigan, Michigan State and Washington to name a few.  If Duke corrects their road woes, they'll win some games down the stretch heading into March.  But there will be growing pains like last evening and another loss is inevitable, so adjusting expectations is wise.
Duke came into last nights game ranked number three in the nation and that was too high a ranking for this young team.  Coach Krzyzewski now has the opportunity to teach his team from the experiences and while the team is being picked apart from talking heads and fans alike, who would actually wager against these Blue Devils possibly growing into a final four contender by seasons end?
There is a ways to go before that happens, but an out of conference loss will be nothing more than a blip on the radar at seasons end in that the one of the nations toughest schedules played to date and wins have Duke practically locked into the NCAA tournament with 17 games to go.  And by the noon Saturday in Atlanta against Georgia Tech, we'll see if the Blue Devils respond and have learned how to come together enough on the road to win.
But just making the aforementioned tournament is not enough or a goal for a Krzyzewski coached Duke team and my thinking is that this team most certainly has a run in it to obtain one of the top seeds.  Duke was outplayed in last evenings loss to a deserving Temple team and exposed in many areas, but the Owls nor anybody else really want to run into these Blue Devils after they've had time to stir the pot and season.