Archives by date
You are browsing the site archives by date.
By Mark Watson on July 20, 2012
Future Blue Devil Matt Jones has helped lead Team Texas to a 2-0 record thus far at the Nike Peach Jam in North Augusta, SC.  BDN Video caught up with him after one of his games to get his thoughts on the tournament to date.
Posted in BDN Premium Articles, Duke Basketball | Tagged Blue Devil Nation, Duke Basketball Recruiting News, Matt Jones, Nike Peach Jam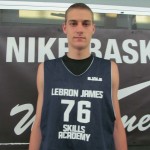 By Andrew Slater on July 20, 2012
For a self-described "goofy kid," 6'9″ Austin Nichols of Memphis has a serious game. Blessed with a 7'2″ wingspan, he is one of the most skilled big men in high school basketball, and has demonstrated the ability and desire to get out and run the floor. On a senior-laden Briarcrest Christian team, the junior averaged […]
Posted in BDN Premium Articles, Duke Basketball Recruiting News | Tagged Austin Nichols, BDN, Blue Devil Nation, Duke Basketball Recruiting News, Julius Randle, Robert Hubbs, USA Basketball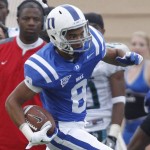 By Patrick Cacchio on July 20, 2012
To date, the Blue Devils have added 13 for '13. The Duke staff has secured verbal commitments from a baker's dozen of rising high school seniors. It should be noted that the 2012 team is set to graduate just 12 seniors and redshirt-seniors (assuming Kenny Anunike stays for a sixth year), so even with some […]
Posted in Duke Football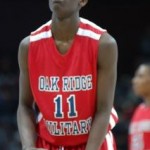 By Mark Watson on July 19, 2012
There seems to have been a lot of confusion on whether Duke has offered a scholarship to big time prospect Theo Pinson.  The issue can now be put to rest, as Pinson has confirmed to Blue Devil Nation that Duke has indeed offered him a scholarship. [private] More to come … [/private]
Posted in Duke Basketball Recruiting News | Tagged Blue Devil Nation Premium, Theo Pinson offered by Duke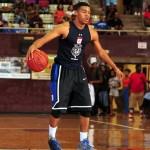 By Mark Watson on July 18, 2012
Duke rising sophomore PG Quinn Cook went for 24 points at the N.C. Pro-Am last evening, with 20 of those coming in the first half.  Cook also dished out 8 assists, half of which went to incoming freshman forward Amile Jefferson.  BDN caught up to Cook after his team's easy win and here is what […]
Posted in Duke Basketball | Tagged Blue Devil Nation, Mark Watson, N.C. Pro Am, Quinn Cook, Quinn Cook goes for 24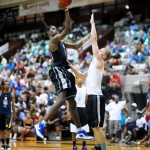 By Mark Watson on July 17, 2012
The N.C. Pro-Am provides fans an opportunity to get a look at incoming players for the first time, and those who saw Duke freshman Amile Jefferson last evening came away impressed.  Jefferson led his team to an easy win with a game-high 29 points, which included six dunks, many of which came off assists from […]
Posted in Duke Basketball | Tagged Amile Jefferson, Blue Devil Nation, Mark Watson, N.C. Pro Am