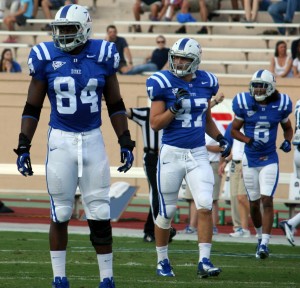 Duke at Florida State
3:30 PM ET
Saturday, October 27
Tallahassee, Florida
TV: ESPNU
Radio: Blue Devil IMG Sports Network
Duke: 6-2 (3-1 ACC), defeated UNC, 33-30
FSU: 7-1 (4-1 ACC), defeated Miami, 33-20
Last year: FSU defeated Duke 41-16 in Durham
DUKE INJURIES
PROBABLE: DE Dezmond Johnson (lower body), DT Jamal Wallace (lower body)
QUESTIONABLE: QB Brandon Connette (shoulder)
DOUBTFUL: S Brandon Braxton (lower body)
OUT: CB Jared Boyd (leg), LB Kelby Brown (leg), TE Braxton Deaver (leg), S Anthony Young-Wiseman (leg)
OUT FOR SEASON: TE Jack Farrell (leg), WR Blair Holliday, DE Allen Jackson (shoulder), S Corbin McCarthy (shoulder), S Taylor Sowell (leg)
FLORIDA STATE INJURIES
OUT: S Justin Bright (head), LB Ukeme Eligwe (hand), OL Garrett Faircloth (hip), WR Josh Gehres (hamstring), DT Moses McCray (head), DT Derrick Mitchell (back), OL Trey Pettis (head)
OUT FOR SEASON: RB Mario Pender (sports hernia), RB Chris Thompson (ACL), DE Brandon Jenkins (foot)
HOW DUKE CAN WIN
The Blue Devils have not won a game against a ranked opponent on the road since 1971. This Duke team has ended a number of losing streaks, but they face their toughest task of the season on Saturday. Coach Cutcliffe has struggled to find a weakness in this Florida State team, and he's right. They are one of the top defensive units in the country, they have a balanced offensive attack, and they have great specialists. Duke will have to play not only their best game of 2012, but their best game in the past 18 years, to win on Saturday. No single play or player can win or lose this game for Duke. The Blue Devils have to come out and compete for a full 60 minutes. They absolutely cannot turn the ball over. Defensively, they have to limit explosives and contain the Seminoles on the ground. The key on offense will be balance, as Duke will have to be creative with their play calls and schemes to keep the Seminoles guessing. If FSU does have a weakness, it may be in their secondary, which has rarely been tested this year. NC State did have success throwing the ball against this defense, totaling 259 yards and 2 touchdowns. Duke doesn't have to be perfect, but they have to be pretty close.
HOW FLORIDA STATE CAN WIN
Florida State has to do what they have done successfully in their wins this year - control the line of scrimmage. FSU ranks in the top ten in the country in nearly every defensive statistic. They are nearly impossible to run against, and they put great pressure on opposing quarterbacks. Offensively, they have a number of playmakers, and with the loss of Chris Thompson, speedy James Wilder, Jr. will see an increase in opportunities for big plays. The Seminoles had a hiccup on the road against NC State, and they will have to avoid making those same mistakes against the Blue Devils on Saturday. In that loss, they ran for just 3.5 yards per carry and finished 3/15 on 3rd downs. EJ Manuel will be looking for some explosive plays against this Duke defense, which has given up its share of points in losses to Stanford and Virginia Tech. FSU will look to make a big play early to seize the momentum in this game and put the Blue Devils in a hole.
WHY FLORIDA STATE WILL WIN
Simply, they will win at the line of scrimmage. The Seminoles have dominated several games this year by shutting down opposing offenses and controlling the game on the ground. Even with the loss of Chris Thompson, this is a very talented FSU backfield, and they will run the ball successfully against the Blue Devils, opening up a few big plays for EJ Manuel through the air. Duke has struggled in games where they have not run the ball effectively. They were impressive last week against an above average UNC run defense, and will have to be even better this week if they hope to keep it close with the Seminoles. Florida State 35, Duke 16