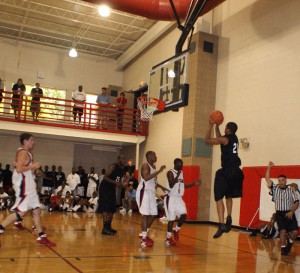 The Nike Peach Jam kicked off this morning with several of the nations top prospects trying to impress college coaches.  Daniel Orton and Xavier Henry led their team to a win over California Supreme, who was without star center Jeremy Tyler, a no show.
UNC prospect Leslie McDonald was also missing with his duties with the national U-18 team.  Still, there are many stars from John Wall to Josh Selby and more.  The majority of the prospects are unsigned and some have even opened their recruitment back up after committing.  One of those players is Marshawn Powell who had originally said Arkansas was his choice.
Powell plays for AAU power Boo Williams, but even with the help of eight Division I futures, the tournament favorite went down to defeat in their first game.  In fact, it took a three point shot at the buzzer to knock them out 67-64 after blowing a sizable lead.
The winner, Team Texas was led by Gary Franklin.  Of course, Boo Williams features Duke's first 2010 commitment Andre Dawkins.  Dawkins didn't disappoint.  He came into the game with 8:33 left in the second half and immediately drained two jumpers.  He has 12 of his 14 points in the first half in the aforementioned allotted time.  He was 5 of 9 from the field and 4 of 8 from the three point stripe.
Duke Assistant Steve Wojciechowski watched from the sidelines.  Also watching the game were Roy Williams, Billy Donovan, Seth Greenberg and a multitude of assistant coaches.  All watched as a cast of Tristan Spurlock, Steven Pledger, Kendall Marshall, Deshawn Painter and the aforementioned Powell and Dawkins couldn't will their team to victory.  An aside, Marshall and Dawkins are the only 2010 players on this veteran team.
Peach Jam Alum include - Amare Stoudamire, Carmelo Anthony, Shelden Williams, Kevin Durant, Brendan Wright, JJ Redick, Dwayne Wade, Greg Oden, Baron Davis, Elton Brand and Dirk Nowitkzi.
Blue Devil Nation Premium will take in Jamil Wilson's 6:00 game and and Boo Williams following that.  John Wall and others are on tomorrow's schedule and we'll try to make a later afternoon game where Nate Lubick and Jason Morris are in action in Aiken, S.C.
Blue Devil Nation Premium members will continue to receive updates as the weekend goes on.  Members will also get to hear interviews with the prospects and in depth scouting reports.  You can subscribe by going to the paypal links in the left menu in this link.