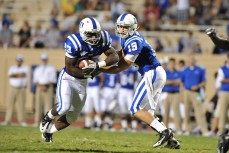 I remain convinced a team must successfully run the ball to consistently compete to win. After rushing 45 times for 142 yards in the win at Navy, Duke followed up by rushing for 230 yards on 45 attempts with six rushing touchdowns in Saturday's 55-48 victory over the Virginia Cavaliers. So far in 2010, through nine games, Duke is averaging 132.8 yards per game on the ground, which ranks 85th out of 120 Football Bowl Series teams. Last season, Duke finished 120th in rushing.
On Saturday, Desmond Scott rushed for 97 yards on 17 carries including the decisive 35 yard touchdown scamper on a toss sweep. Brandon Connette was Duke's second leading rusher gaining 78 yards on 12 carries, followed by Sean Renfree who gained 22 yards on 10 carries. Connette and Renfree each scored two rushing touchdowns.
Wide Receiver Donovan Varner was the fourth Blue Devil to score a rushing touchdown when he went in motion out of the slot, received an inside hand-off from Connette on a QB option, and darted off tackle for nine yards into the end zone. Varner gained 14 yards on two carries.
Improvement in the ground attack is a positive indicator Duke continues to progress toward turning the football program into an ACC contender.
It is no coincidence Duke has a plus five (+5) turnover margin in their three victories while being minus 14 (-14) during the six losses. Turnovers kill a team's ability to win games. Duke remains last in the ACC in turnover margin at minus nine (-9) so if they are to extend their current two game winning streak they must value the football.
With all the success Duke has had running the ball recently, make no mistake, the Blue Devils remain a pass oriented offense. Duke is third in the ACC in passing offense averaging 261.3 yards per game. Sean Renfree has passed for 2270 yards and 12 touchdowns this season.
Conner Vernon (5.4), Donovan Varner (5.2) and Austin Kelly (4.4) are first, third and eighth in the ACC respectively, in receptions per game. With Austin Kelly out for the game and Conner Vernon injured returning a kick-off, tight end Cooper Helfet stepped up and caught seven passes for 126 yards against the Cavaliers. Helfet has 20 catches in eight games this season for a 2.5 receptions per game average. He was named one of the ACC players of the week for the second consecutive week.
On Duke's game winning drive, Donovan Varner converted the critical first down when he caught a 26 yard pass on fourth and 18.
The kicking game is another phase of the game where Duke is excelling. Will Snyderwine is ranked number three in the ACC in scoring (kick) with 72 points. He has made 15 field goals out of 16 attempts plus all 27 extra points attempted.
Duke has attempted six onsides kicks this season and been successful four times.
Lee Butler averages 9.5 yards per punt return, which is fifth in the ACC. His longest return this season is 33 yards and he returned one punt for 26 yards in this week's victory.
Desmond Scott is sixth in the ACC in all purpose yards with 957. Scott has rushed for 489 yards, gained 260 on kick returns, and caught 22 passes for 208 yards this season.
On the defensive side of the ball, Abraham Kromah ranks second in the ACC in tackles per game at 10.1. Kelby Brown is eighth with 7.6 and Matt Daniels is tied for eleventh with 6.9.
Injuries are starting to mount and could become an issue over the last three weeks of the season so I'm awaiting Thursday's injury report with trepidation. Duke seeks to extend their winning streak to three games when the Boston College Eagles visit Wallace Wade Stadium on Saturday.