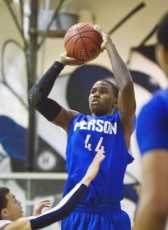 There is a young prospect in the class of 2013 by the name of Tyrone Outlaw and he resides about a 27 minute drive north of Cameron Indoor Stadium in a small southern town named Roxboro, North Carolina.  Last season the 6-5 wing led Roxboro Person High deep into the state playoffs,  "We went to the 3rd round of the state playoffs and that's unheard of around Person," Outlaw said with a glint in his eyes.
Outlaw participated in the Carolina Challenge event on Saturday where he averaged 9.7 ppg against the best players in the state of North Carolina.  Outlaw told BDN that he was concentrating more on his overall game than his scoring at the event where players play about half of each game for their respective teams.
His Coach at Person, Charles Davis t0ld BDN that Outlaw would [private] be the focal point of this seasons team and last years success brough pride to the school and community.  "He takes academics seriously and has a 3.4 GPA," stated Davis 
During the summer AAU season, Outlaw will lace them up for Garner Road who most recently produced T.J. Warren who will be at N.C. State next season.  When asked if he had a dream school growing up, Outlaw offered up N.C. State, where his father was to attend but fell short on his SAT's.  His Godfather James Barnett played football for the Wolfpack.
But it was another Triangle school that had Outlaw excited, that being Duke. "It's like a dream come true. I was in a workout and my coach called me and told me about a message on the phone which made me smile. It was Coach Capel. They've just recently called and want me to come over for a workout," said Outlaw.
The Blue Devils will have Outlaw in for an unofficial visit which is easy due to his proximity to campus.  When asked which current Blue Devil he could relate to, Outlaw pointed to a picture of  Ryan Kelly, a Carolina Challenge alum, who actually played his high school ball in the gym where the event took place, Ravenscroft
Outlaw was clearly happy that Duke was evaluating him and it remains to be seen if he will become a focal point for the program which currently has a lot of irons in the fire in recruiting.  Outlaw who played center when he was younger and power forward is still adjusting to the perimeter.
When asked what he needed to work on most, Outlaw said without hesitation, "Defense. I'm a great defensive player but you can never stop working on defense," as if the statement was scripted to impress a certain Hall of Fame Coach.
Murray State called Outlaw this past week but it is Wake Forest that has it's foot firmly in the door.  "They've talked to me and want me to play the two or three guard or a wing player. They want me to work on the little things, like screens, boxing out and keep my grades and character up. I am close with Coach Battle and he tells me what he wants from me and how it will be to be a Wake Forest Demon Deacon."
Some consider Outlaw a bit of a secret, but schools will start to come in when they learn of his off season improvement, "I've improved a lot on my dribbling and on ball defense and moving but offensively I need to get better jab stepping and pump faking.   I can knock down shots when I'm taking them but in a setting like this? I'm just worried about proving I can do all the other things."
Outlaw likes the local or ACC schools and made it clear he didn't want to stray too far from the state.  And with his fathers history of falling just short of college he seems to be fighting off those who may compare him. "My coaches and my mom Keep me straight.  She keeps me grounded and if it was up to her she would want me to go to Harvard, Outlaw said in a light moment.
Murray State and Wake Forest have promised to offer if his SAT scores line up according to Outlaw and considering he is currently in his schools honor society he stands a good chance of all coming out well.
"I want to go to a school, stay their four years and take that degree I earned and get a job if I can't go to the NBA.  Also, I want a chance to win a championship." [/private]