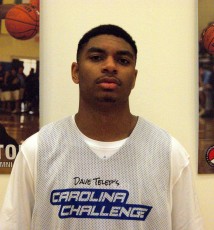 The Duke Basketball program puts out a lot of feelers and they are currently evaluating a lot of players.  Al Freeman (6-4 SG, Olympic HS in Charlotte, N.C.) is one of the highest rated guards in the class of 2013 and he said his coach recently heard from Duke Assistant Coach Chris Collins, UCLA and  Ohio State.  He recently trimmed his list to Kansas and Villanova but said he would still entertaina  school that is the right fit.  Freeman scored but a single point in his opening game which caused one veteran analyst to say he was the most disappointing player he viewed in the morning session, but he bounced back with 19 in the next game and averaged 9.0 during the Carolina Challenge event which features the top players in the state of North Carolina.  BDN Premium caught up with Freeman and got his thoughts on the process.
How are you liking the camp thus far?
I love this camp, it's my third year here.  I got here a little late but just went right in and played in the first game.
If somebody had yet to see you play, how would you describe your game to them if asked?
A big combo guard who looks for his shots as well as teammates and loves to win.
Do you pattern your game or try to emulate [private] anybody on the court?
Deron Williams
What is going on with you and the recruiting process or where do you stand at this time?
I cut it down to Villanova and Kansas.
Is that the only two schools that have come in or that you have settled on?
Ohio State and UCLA jumped in and Duke is starting to show interest.  Collins expressed interest to my AAU coach.
Do you have any interest in Duke?
Yeah, I have interest in Duke.
Villanova develops players and their guards specifically, they have a great coaching staff that really cares about their players.  The same goes from Kansas and they get guys to buy into what they do.
What are you looking for in a program?
Just a program that allows their guards to be guards.  I don't want to go to a program that makes you a one or two guard.
So are you willing to let other schools in?
Uhm, only if it's the right fit.
With a program coming in a little late like say Duke, does that have a negative effect?
Naw, everybody has their way of recruiting, each school handles it differently.
Will you take all of your allotted official visits?
I don't know yet, it's hard to say.
Is their a timeline for a decision?
No, not really.
Thanks for your time and good luck with the process.
My take - Duke is in with a lot of shooting guards and may feel a late push for Freeman is more time consuming than it is worth.  While he is truly a good prospect, everybody felt he was overrated nationally with concern to guru types except those who gave him such a lofty ranking.  He's a strong guard who plays aggressive defense and he's not a great athlete but a pretty good one.  He got past defenders at this level but made a myriad of mistakes in his first outing be it a 5 second count, bad passes or turnover.  However, he bounced back nicely in his second outing where his shot dropped and that energized him a bit.  He needs better shot selection and he is IMO a borderline Top 25 player.  I would be surprised if Duke elects to pursue him with current events but wanted to get to know him as a prospect.   More to come. [/private]