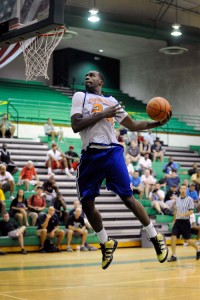 Players dream of going out on top. In his final high school game, 6'6" Shabazz "Bazz" Muhammad finished in dominating fashion, making thirteen of his fifteen shots to finish with thirty-six points in the Nevada state title game for the Gaels of Bishop Gorman last Friday night. The chiseled Las Vegas native won three state titles in his four years, averaged thirty points, ten rebounds, and three assists this season, and will go down as the greatest high school basketball player in Nevada history.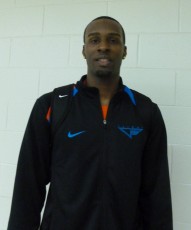 Muhammad, a born scorer who plays with the relentless effort that coaches dream about and opponents fear, has been the number one target for Duke in the 2012 class for the past three years and first visited Duke for the Carolina game in Duke's 2010 Championship season. He came back to visit unofficially again for the Virginia game last season with Chicago's Jabari Parker. On Saturday night, Shabazz will use his final official visit to fly to Duke University to catch them play their arch-rival UNC Tar Heels. He'll be joined by his dad, Ron, a former high-flyer from USC in the mid-80s, and fellow McDonald's All-Americans, Rasheed Sulaimon and Amile Jefferson, his Adidas Nations teammate.
Last month, Duke Coach Mike Krzyzewski brought coaches Jeff Capel and Steve "Wojo" Wojciechowski to join him at the HoopHall Classic in front of a packed house in Springfield, Massachusetts, where the left-handed Shabazz Muhammad displayed his full arsenal of offensive weapons, unleashing everything from a windmill dunk to a step-back three pointer. Muhammad finished with thirty-seven points that night in a win against a very solid DeMatha team featuring multiple high-major caliber players.  In December, Coach K headed down to Myrtle Beach, South Carolina to watch Bazz play eighteen minutes and score twenty-two points in a blowout win against Lakota East at the Beach Ball Classic.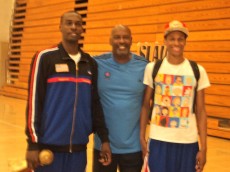 Throughout the AAU season, Duke coaches were a consistent presence at Shabazz' DreamVision games, including not missing a single game of his Super 64 run to close out the summer on his Vegas home turf. The prior summer, Duke coaches watched Shabazz as a rising junior and Muhammad, a die-hard Kobe Bryant fan, watched Coach K work with his Team USA Basketball hopefuls at the Thomas & Mack Center in Las Vegas.
After an AAU season where Shabazz led DreamVision to three tournament titles and a HS season where he led Bishop Gorman to a 28-4 record, competing from Florida to California in big national showcases, and a third state title, Bazz Muhammad will spend forty-eight hours starting Friday in the Gothic Wonderland in Durham, NC on Duke's campus. For the Duke coaches, this will be the culmination of their three-year courtship of this high-scoring power wing with a team-first mentality. For the Cameron Crazies, it will be their last shot to convince Shabazz Muhammad, the statuesque young man with a movie star smile and a violent dunking streak, to choose to spend his college year in the mecca of college basketball.