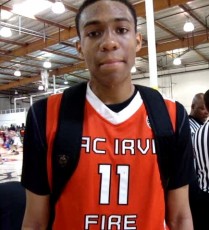 The Holiday season is upon us and that means Duke Basketball plays just a couple of December games, but make no mistake, it is still a busy time.  The Duke Men's Basketball staff will put in their frequent flyer miles and burn a little rubber as they hit the recruiting trail and BDN Premium brings you an update on the latest news.
Coach Krzyzewski and assistant coach Jeff Capel will be in Dallas, Texas today to watch Julius Randle, the nations #2 ranked player in the class of 2012.  Duke will also see (1271 word update ahead for BDN Premium members) [private] Matt Jones, the shooting guard who just pledged to the Blue Devils.  There is no mistaking the fact that Duke hopes Jones will help recruit the banging horse, Randle.  And Rasheed Sulaimon may help there as well.  As I have said in past updates, the Blue Devils covet Randle and think they can get him and Jabari Parker and that would be just magical for the fan base.
Speaking of Jabari Parker, the top rated player in his class that is now being compared to Kobe Bryant by some, the staff will watch him in Fayetteville this weekend.  I have long maintained that I feel Duke is in incredibly good shape here and that they were in on Parker very early and have developed great relationships with the family.  Duke will also take in the Beach Ball Classis in Myrtle Beach, South Carolina where they'll see him again at the end of this month.  Parker will have his parents in tow this weekend and probably Myrtle Beach as well.
And speaking of the the Beach Ball Classic, one of two top recruits left for this season at this time, Tony Parker will be there.  Duke continues to get good vibes from his camp, especially his parents who I have said for a long time now favor Duke.  Parker is a stressful prospect for Duke fans in that the Blue Devils really need him and or have a place for him.  I was the first to tell you that the December date was sketchy and that you cannot really go on what Parker says he'll do.  And that means the old line, don't listen to what he says, but watch what he does.  Parker is enjoying the process, a bit too much for most Duke fans taste for it makes little sense he would choose any situation but Duke for numerous reasons.  Of course, they have on royal blue glasses as well but even the objective observer sees the best spot for him is in Durham.  I still think he will end upo taking this until summer - late summer, so try and keep your composure and not go bad mouthing him in forums which could possibly damage the teams efforts.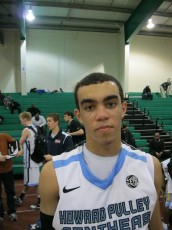 We cannot leave out the top rated player in this seasons class, Shabazz Muhammad who will also be in Myrtle Beach.  UCLA, once considered a strong leader is now third in my opinion and as I said a bit back, it will come down to Duke and Kentucky.  His decision could hinge on Austin Rivers decision to go pro or stay at Duke, so this one as I have said all along will go to the podium the last day or so of the signing period in late summer.  And it doesn't hurt to dream and think that both Parker and Bazz might choose Duke taking all of the build up stress away and making us all five years younger in the process.  Muhammad could really flourish in the Duke system where I feel he would be more of a go-to guy than he would be at Kentucky.
Another Chicago are kid has caught the Blue Devils eye as well.  Jalhill Okafor is a bruising type in the class of 2014 and stands 6-10 and weighs in at 280.  Duke has mad in roads with him and they'll see him this weekend along with Jabari Parker.  I am looking forward to reporting on his game as I focus in on him solely  for the first time.  He plays AAU ball for the Mac Irwin Fire and they at times have so many good players, that it is hard to focus in on one early in the circuit season.
Two players that will play at the former Glaxo event in Raleigh will be Rasheed Sulaimon, already signed with Duke and young Theo Pinson.  Sulaimon will thrill the crowd for sure with his water bug like movement.  He glides around the court with high energy and his on ball defense is much improved, making me think he can be a stopper at Duke.  Our diary session kind of imploded due to his schedule, but he has said he will pick it up soon.  Pinson is another 2014 kid that liked Duke growing up.  He is an interesting wing that still seems to be growing at 6-5 and will likely be a small forward type in college, but he has good guard skills as well and like all Duke prospects, he has great character.  Okay, I know what you are thinking about that statement, but be nice as I said up top, LOL.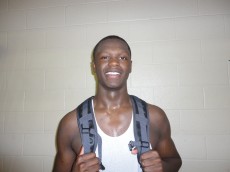 The City of Palms, Texas, Vegas .... the Blue Devils staff will be seeing a lot of kids this month.  Some of those will be individual visits to the likes of Tyus Jones and Austin Nichols.  The Blue Devils fell in love with Jones last year and I had already been there in that he always stood out to me.  During my last interview with Jones, I came away very impressed at his grounded maturity which is far ahead of his years.  And that kind of maturity is what you seek in a point guard.  Duke will be on this kid hard as will everybody else int he nation, but early returns are that he likes Coach K and Duke a lot.  Austin Nichols is a 6-8 slender forward approaching 200 pounds that the Devils staff will check out individually.  A lot of SEC schools are on the Tennessee native and a few from the Big East along with Butler.  Nichols caught the Blue Devils eye but it is early on this one, so we'll call it an on going evaluation.
On the team front, Coach K is very pleased with the 9-1 start to the season and the staff will take measures to try an assure there is no burnout from the added stress of the China trip.  There are a few nagging injuries (nothing major) but I only speak of them when announced and the team rarely does this.  The staff will be watching a lot of film, so expect a few new wrinkles as the new year moves in.  As I said, the plan is to redshirt Alex Murphy and Marshall Plumlee and this will be a good thing down the road for these will be seasoned and mature freshman.  And yes, I played a bit of a game in mentioning lineup changes the other week and many got a chuckle out of other sites running with it in public.  It pays to know Duke Basketball, wink-wink and to be a member of Blue Devil Nation Premium.  Thanks for being a member guys and let's go Duke!
Talk about this article on the Blue Devil Nation Premium Message Board, a part of your membership package and please do not share, copy and past this information per user agreement. There will be more news to follow in an addendum I will add to this update and we'll be on prospect hard.  This is where you will get an idea of what Blue Devil Nation Premium is all about. [/private]