You still haven't joined BDN Premium? Man, you're missing out!
…collapsing the distinction between the exasperatingly silly and the charmingly naughty...
...delivers plenty of wit, verve and surreal mayhem to entice…
A piece of fluff as artificially sweetened as a fuchsia Peep…
Thanks to its fondness for smushing together seemingly incongruous elements…is just demented enough to deliver a fleeting sugar rush... [private]
Surprisingly, those were the reviews for the movie Hop, not Football Friday, but I sure would have been honored. Oh well, I don't let the critics read my column, anyway. We start on two down notes today, but we'll rally down the home stretch.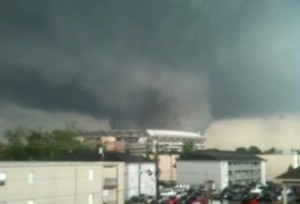 Deadly storms in the South
Our thoughts and prayers are with all of those affected by the strong storms and tornadoes that tore through the South on Wednesday, claiming nearly 300 lives. Neighborhoods and communities have been severely damaged and destroyed. It will take many months to piece back together the lives of the families affected, and there are many noble organizations that have quickly mobilized relief efforts. Please consider donating your time, money, goods, blood - whatever you can - to help those in need: American Red Cross, Salvation Army, Samaritan's Purse, among many other deserving national and local groups. Head Coach David Cutcliffe, an Alabama native, will assist with a Time Warner Cable Recovery Drive today at 4 PM.
Anita Caldwell passes at age 103
There are only a select few who could honestly lay claim to the title "Duke Football's Greatest Fan," and Mrs. Caldwell would make the short list. The widow of former Duke Assistant Coach Herschel Caldwell, who came to Duke as an assistant one year before Wallace Wade, Mrs. Caldwell passed away this week on her 103rd birthday. A remarkable woman, Mrs. Caldwell missed only two Duke football home games in the past 77 years. In lieu of flowers, memorials may be made to The Good Samaritan Fund, c/o Duke Memorial United Methodist Church, 504 W. Chapel Hill Street, Durham, N.C., 27701 or to The Discretionary Fund, c/o Father Bert Eaton, St. Peters by the Sea, P.O. Box 337 Swansboro, N.C., 28584.
Recent visitors on campus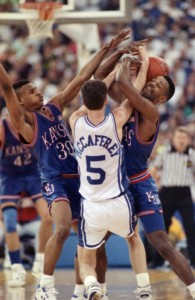 In today's recruiting, it's a rarity for a prospect to commit to a school sight unseen. Thus, getting a prospect on campus for an unofficial visit, whether it's for a game, a junior day, a summer camp or just a campus tour, is an important component of the recruiting process. In the world of emails, texting, and Facebook, there's still no substitute for seeing coaches, players, and facilities in person. Even though spring practices are well behind us and the spring evaluation period is underway, three key prospects have been on campus over the past week.
Max McCaffrey: the 6'2" 180 pound wide receiver prospect from Highlands Ranch, Colorado made the trip to Duke with his mother recently. The son of former NFL and Stanford WR Ed McCaffrey, Max is also the nephew of former Duke men's basketball player Billy McCaffrey, who transferred to Vanderbilt after the 1991 National Championship. Max and his younger brother, Christian (a rising sophomore running back) will look to lead Valor Christian to their third state championship this fall. Max currently has scholarship offers from Duke, Wake Forest, and Arizona State.
Eric Olson: Coach Luke would love to continue his success in recruiting talented offensive linemen, and Olson would certainly fit the bill. An athletic 6'6" 265 pound prospect from Cambridge, Massachusetts, Olson also played basketball briefly for Buckingham Browne & Nichols (per BDN's Andrew Slater). Olson was on campus last weekend for an overnight visit, just a month after visiting for Duke's spring game. Olson grew up a Duke basketball fan and the Blue Devils remain a major player in Olson's recruitment, even though he is now up to 8 offers, including Boston College, Connecticut, Virginia, and Wake Forest, with interest from Northwestern and Stanford.
Dan Beilinson: If it's good to get a prospect on campus for a visit, then it has to be very good to get a prospect on campus frequently. There are a handful of North Carolina prospects who have been frequent visitors to Wallace Wade Stadium, and the 6'5" 220 pound tight end Beilinson is one of them. Out of nearby Panther Creek in Cary, Beilinson has focused his visits so far on the three Triangle schools, and has developed a close relationship with the Duke staff. With some added weight, Beilinson has the tools to be a complete tight end that could thrive alongside current 2012 commit Erich Schneider in the Blue Devils' prolific passing offense. The talented athlete already has five scholarship offers, including Duke, NC State, and Vanderbilt, with interest from Auburn, Florida, North Carolina, and Wake Forest.
Deconstructing some myths about Duke Football
Have you ever seen that show "Myth Busters?" I haven't. I don't even know what channel it's on. If it's any good, let me know. Anyway, most of us here at BDN, myself included, like to keep our fingers on the pulse of all things Duke athletics. Though happily entrenched here at BDN, I will admit that I occasionally do lurk on other free message boards to try to obtain some insight into the hearts and minds of Duke fans, especially when it comes to Duke football. As a self-admitted eternal optimist when it comes to Duke, it can be tough to read some of the unfounded criticism that is out there. That's not to say that there isn't plenty of room for criticism – when your last bowl game was in 1994, there's obviously a lot of things wrong with the program. However, it's important to keep in mind that Rome wasn't built in a day. For those who have followed the program through the bad times, it's hard not to see that things are heading in the right direction. I apologize in advance for my ranting, but I have to vent about some of the things I've heard and read recently about Duke football. Let's take a look at some of the less-than-factual criticism from some of the more impatient Duke football fans: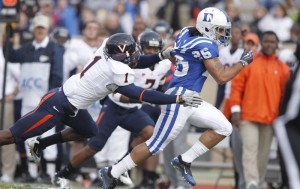 1. Coach Cutcliffe always speaks in hyperbole, creating unrealistic expectations.
First of all, what college head coach doesn't? It's basically in the job description. In Coach Cutcliffe's case, he inherited a program defined by its culture of losing. Before you can succeed, you have to believe you can succeed, and that mentality has to be embraced throughout the program – from the administration to the coaching staff to the players to the fans. There's no question that Coach Cutcliffe has done a remarkable job of changing the culture at Duke, to the point that coaches, players, and fans expect Duke to win games. Perhaps the best indicator of this is the incoming recruiting class of 2011 – several players have told BDN that they're coming to Duke not just for the education or the chance to play football, but they plan on winning an ACC Championship. As for this year's squad, when asked about the Blue Devils' 2011 bowl chances, Cutcliffe said, "I don't think there's any question we're at that level. We don't have a huge margin of error just yet, but not anybody does, for the most part." With a potent, veteran offense and a young, athletic defense, that sounds like a pretty fair assessment.
2. Duke has not been recruiting 4- and 5-star talent.
The correct criticism here is that Duke has not been bringing in 4- and 5-star talent, but it isn't from a lack of effort. In the class of 2010, the Blue Devils offered at least 3 5-star prospects and 38 4-star prospects (and secured an initial commitment from LB Aramide Olaniyan). In 2011, Duke offered at least 4 5-star prospects and 51 4-star prospects (and nearly landed TE Cam Clear). While the class of 2012 rankings have yet to be released, Duke is going up against national powers for some of the top recruits and appears to be holding their own in at least a few cases so far. There's no question that Duke needs to land some of these commits, and winning games will go a long way to helping that cause.
3. Duke has focused too much on regional recruiting.
There are two things wrong with this presumption. First, focusing on regional recruiting is probably the right thing to do. The majority of football players don't go to school far from home, so it makes sense to spend a significant amount of time building relationships and recruiting within a home region. Let's look at the number of in-state players on the rosters of four private schools that many love to compare Duke to:
Duke: 28%
Northwestern: 27%
Stanford: 37%
Vanderbilt: 12%
Wake Forest: 29%
If you expand those percentages to within a region (Midwest, Southeast, West Coast), they grow even larger, but it's clear that Duke is not over-emphasizing in-state players relative to other schools. The in-state numbers are also similar when comparing the incoming class of 2011:
Duke 25%
Northwestern: 29%
Stanford 26%
Vanderbilt 24%
Wake Forest 19%
The second problem with the presumption is that it's simply wrong. Less than one-third of the roster is from in-state, and with regards to recruiting, let's look at the top states represented on the recruiting board, which contains only the players Duke actively recruited, from the past two years:
2011: AL (10), FL (37), GA (19), NC (50), NJ (7), OH (20), PA (8), SC (11), TN (11), TX (15), VA (14)
2012: CA (11), CO (5), FL (22), GA (16), MA (5), MD (10), NC (39), OH (23), PA (5), SC (12), TN (12), TX (6), VA (6)
Those numbers indicate to me that Duke is recruiting where the talent is, but by all means, please check my math.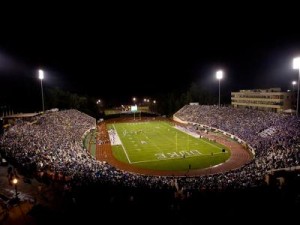 4. It's still the same old Duke.
Bottom line, the talk of rebuilding our football program is getting tiresome to many fans, but progress is being made. The university has invested in the football program (check out our new indoor practice facility – sah-weet!) and fans are trickling back in to Wallace Wade Stadium, as season ticket sales have steadily increased. Even with a 3-win season in 2010, the Blue Devils have won more games under Coach Cutcliffe than they did in the previous 8 seasons (12 wins 2008-2010, 10 wins 2000-2007). No one is more tired of the talk than the players and coaches, who are ready to produce results on the field. Behind a strong offensive line, a solid stable of running backs, an All-ACC receiving corps, and arguably the best returning QB in the conference, this Blue Devil team has high hopes for the fall. There's no question that the next step is to put together a winning season, and I can't wait to find out if this Blue Devil team is tough enough to do it.
Seems like a good note to end on. WE ARE DUKE.
[/private]