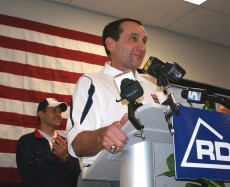 There is always a lot happening around Duke athletics, and this coming week is no different.  BDN Monday Musings takes a look around  in our latest group of tidbits.
Kyrie Irving injured again
Kyrie Irving suffered an untimely injury when, during a Cavaliers practice, he hit his hand out of frustration -- breaking a bone in the hand -- and will now be out of action until the start of training camp.  Irving is, of course, the reigning NBA Rookie of the Year who most recently was a member of USA Basketball's NBA Select Team.  Here is more on his injury.  BDN wishes him a speedy recovery.  For the record, according to BDN's recruiting analyst who was recently in Las Vegas watching Team USA's preparations, Kyrie's play was as good as any guard in the USA camp.
The Nike Peach Jam is upon us
One of the more popular stops on the AAU circuit is the Nike Peach Jam, which is held in North Augusta, SC, just minutes from the site of the Masters golf tournament.  This event provides coaches with one of their last opportunities to scout the Nike kids.  Only the top teams qualify for the tournament, which ultimately crowns the best team on the "Swoosh" circuit.  In fact, the importance of the event caused several players to back out of the Nike Hoops Summit this past weekend.
Several key Duke prospects will participate in the Peach Jam, and BDN will be there to bring you all the action.  Our most recent offering for premium members is a very interesting interview with big man Jahlil Okafor, who stated on record how bad his team wanted to win it.   The Nike Peach Jam was one of the first events that Blue Devil Nation covered, and it's always one of my personal favorites.  BDN has now been around for ten years and our message board is celebrating its 5th anniversary this season.  Want more great coverage?  Join today!
Team USA preps and also entertains the troops
What an exciting summer it is for Duke fans, as they get to see coach Mike Krzyzewski try to mold another gold medal-winning national team.  During yesterday's practice several members of our military and their families got to watch their heroes work out at the National Guard Armory in Washington, D.C.   "They humble us. I mean they do so much for our country and represent our flag," said Timberwolves and Team USA forward Kevin Love.  "We just go out there and play basketball. So they are the reason we have our freedom."  Team USA will take on Brazil today; here is the team's entire schedule through theLondon Olympics.
Duke Football
Just 47 days remain until the Duke football team kicks it off against Florida International in Wallace Wade Stadium on September 1st at 7:00 EST.  There is no update on Blair Holliday, who was recently injured in a horrific boating accident.  Please keep his family and Blair in your prayers. But Duke Football will have to suck it up and prepare to start practice, where they will undoubtedly be hampered by the loss of Holliday at wideout, where he was slated to start.  In fact, this is the position that will be watched most closely in the pre-season by media and coaches alike.
The ACC Kickoff happens in Greensboro this coming Sunday.  This event marks the unofficial media start to the season, as coaches and players meet and the pre-season projected standings and All-ACC teams are released.  BDN will be there as always to bring you full coverage, including the comments of Duke Coach David Cutcliffe.
Elton Brand
In a move designed to shed $18 million from their payroll, Elton Brand was released by the Philadelphia 76ers.  But Brand was quickly picked up and signed by the Dallas Mavericks, who outbid the rest of the league for his services.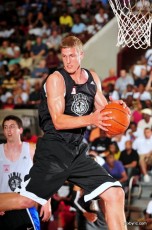 Mason Plumlee named to Honor Court
Mason Plumlee was named to the National Association of Basketball Coaches 2011-12 Honors Court today. The Honors Court awards the talents and gifts that these men possess off the court and the hard work they exhibit in the classroom.  Plumlee, a double major in Psychology and Cultural Anthropology, also received CoSIDA First Team Academic All-America honors last season. On the court, he was named third team All-ACC while averaging 11.1 points and 9.2 rebounds per game. Plumlee also shot 57.2% from the floor and finished the year with 12 double-doubles and a school record 60 dunks.
North Carolina Pro-Am
The N.C. Pro-Am has kicked into high gear on the campus of N.C. Central University, and more Duke players could be participating in the event this week, on Tuesday and Thursday evenings.  There really hasn't been enough play thus far to warrant us passing on our opinions of the players we've seen, but that will change in the coming weeks.  There are several interviews from the event up on the site already, and even more for members on the message board.
Miles Plumlee is a hit
Miles Plumlee was named to the NBA's Orlando summer league's First Team.  Check out his video from Dime Magazine.
Syracuse is set to join the ACC
It's official!  Syracuse will join the ACC in July of 2013.  Check out this link.