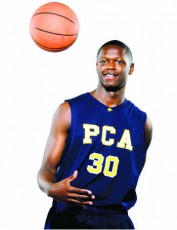 The advent of the internet and social media has  created a more level playing field where information is dissipated in terms of seconds and minutes rather than days or months. It's helped accelerate the potential boom and bust cycle of recruit's reputations. A player needs to continue to improve and stave off of his chasing peers. News spreads quickly when a player has a good game or weekend at a high school tournament or an AAU event.
Some young men shrink under the scrutiny, while others find comfort in the spotlight and excel. Julius Randle is a 6'8" 242 lb forward for Prestonwood Christian Academy, a private school located less than an hour's drive north of downtown Dallas. As a well-publicized freshman, he led the Plano-based school to a 35-3 record, including a TAPPS 5A state title win over Trinity Christian Academy 50-45, averaging 15 points and 9.8 rebounds per game.
This past season, the Prestonwood Lions looked to play an even more challenging national schedule and competed on both coasts in the National Prep Classic in Santa Maria, California and the Beach Ball Classic in Myrtle Beach, SC, where the young  squad, led by sophomores Julius Randle and Marquan Botley as well as Kansas-bound junior Zach Peters, finished fourth and third, respectively. The Lions entered the state playoffs expecting to repeat as champions and were well on their way, but, in the championship game, dealt with foul trouble to both Peters and Randle and a 19-5 third quarter run to ultimately fall to St. Thomas of Houston, 76-57. In a season where he led the 26-11 Lions in scoring (24 ppg) and rebounding (12 rpg), the versatile Randle led his Lions with 14 points in the title game. For his efforts, he was [private] named to the national first-team MaxPreps all-sophomore team.
After the season, Brad Greenwood, the team's head coach, moved into an administrative capacity at PCA. Earlier this month, 36 year-old Chris Mayberry was hired from First Academy in Orlando, FL to be the head coach for next season. Next season, Prestonwood will look to make it back to the championship game for a fourth consecutive season and have agreed to participate in two strong national high school events, the City of Palms in Fort Myers, FL and once again in the Beach Ball Classic.
On the AAU circuit, he competes with the Texas Titans, where he has formed an inside-outside tandem with three-point marksman, Matt Jones. At the Boo Williams leg of Nike's EYBL, Randle played through an ankle injury, which limited his available time to just over 20 minutes per game, to average 15.6 ppg and 9.4 rpg, while leading his Titans to a 3-2 record. He was unable to play at the recent Dallas edition of the EYBL, due to the aforementioned short-term injury.

Can you talk about your injury and what happened?
Oh, yeah, it was probably about a month ago. I hurt my ankle pretty bad.
At Boo Williams?
No, before Boo Williams, but then I re-injured it at Boo Williams. Then, I saw some doctors and they said to stay off of it for a bit.
Like as a precautionary measure?
Yeah.
When will you be ready to play again?
I should be able to start working out again next weekend.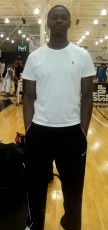 Will you be fully healthy by July?
Yeah, I'll be healthy then.
People are always interested in recruiting. Which teams are after you hardest right now?
A lot of schools and I'll probably forget a lot, but..North Carolina, Duke, Texas, Oklahoma, Missouri, Kansas, Baylor, Arkansas, everywhere..NC State and Kentucky, too.
The list goes on, does it, show-off? (laughs)
(Laughs)
Which teams came to see you during the open period and will that play a factor in your decision?
Oh, yeah, it's always good for a coach to come see you.  I really appreciate everything.  Coach K and Coach Williams came to see me, the coach at Baylor, Ohio State…Texas came to see me, Arkansas came to see me… a lot of schools. It's always good to see them and see who's interested.
Do you have a timeline for when you'd like to decide by?
Yeah, I'll probably make a decision my senior year. I want to take all five of my officials. There's no pressure or anything.
Can you describe your game to an audience who hasn't seen you play yet? Something, perhaps, beyond what a YouTube video could tell you?
(Laughs) I'd probably just say versatility, you know, I have an inside-out game. On the inside, I'm a post presence. I have a lot of post moves. Outside, I just try to use my quickness to my advantage and take them off of the dribble. Also, on defense, I try to play hard and block shots. I bring an intensity to the place.
In terms of things you'd like to improve on, what are some things you're concentrating on this summer?
Just work on every facet of my game down. As far as perimeters skills, off-the-dribble, pull-ups, working on pick-and-rolls, and anything else on I can work on on the offensive end. On the defensive end, concentrating on guarding everybody and playing hard all of the time.
What position do you think of yourself as and what are schools recruiting you to play?
Just a combo forward. And the schools who are interested in me or have seen me play think of me as more of a 3/4 guy than in the past, when some people were recruiting me as a center. A combo forward type of player.
I know from following you Twitter that you're a big Kobe guy...
Yeah, definitely.
(Vince Compton, Nike's director of scouting, comes over to thank him for coming.)
..but who are some guys that you try to emulate?
As far as perimeter skills, I'd see Melo or LeBron or someone like that. As far as inside, someone more like Blake or Amar'e.
Those are some pretty good guys to model your game after.
Yeah, definitely.
Who's the toughest player you've played thus far?
Probably the best player I've played against in this EYBL thing is Kyle Anderson.  He's very good.

Yeah, he's very versatile, with good court vision and an advanced basketball IQ, too. He sometimes goes by the name "Slo-Mo."
(laughs) Yeah, very versatile and the other guy that's pretty good is Rodney Purvis.
Sure, the North Carolina kid. What are you looking for ideally in a program whenever you do decide?
Academics, a coach who I can trust..
By the way, I can't believe how articulate you are. I can't tell you how many people I've been dealing with that give me three-word answers.
(laughs) Thanks.
Sorry, fire away. It's just a pleasure.
(laughs) A coach that I can trust and one that's going to push me..one that's simply going to try to make me the best player that I can be.
Will distance be a factor for you at all?
No, not at all, my mom wants me to go wherever's best for me.
He (Vince Compton) pointed her out in the crowd to me before. What would you like the audience to know about you off of the court?
I'm a laid-back kid, nothing special. I'm just trying to enjoy the time I have with my family and friends because I know that there's not going to be much time before I head off to college, so I want to enjoy them as much as possible in the time that I have left. Spending time with family and friends. Hanging out and stuff.

That's good to hear.  Speaking of family, I know your mother's here.  Can you tell the audience a little about your family?
I have an older sister, she was in college and now she works.  It's me, my sister, and my mom in the house.  I love 'em to death. I'm a pretty big mama's boy. I guess you could say that. (laughs)
No, no, that's fine. (laughs) That's good to hear. Who will be some people you turn to for guidance. I assume your mother will be number one on the list..will there be anyone else you turn to for guidance?
Oh, yeah, my mom...she'll be number one, definitely, and another person that's a big person in my life is Jeff Webster, he's like my skills coach and also like my mentor.
Is he here?
(laughs) Yeah, he's here. He's one of the assistant coaches on this year's team.  He plays a big part in everything that I do. 
What are you hoping to accomplish this summer?
Just establish myself as the best player on the floor every time that I play. 
Game in and game out?
Yeah, just be the dominant player that I can be. 
Is it difficult for you to work on your skills with so many AAU events? You're playing almost every weekend.
Yeah, but I'm not too worried about it.  I need to just keep playing my game.
Physically, what would you like to do with your body? Would you like to get bigger? Leaner? What are your hopes or goals?
I'd like to improve my flexibility, I've got to get more flexible.  We've been starting to work on that a lot, lately with my strength trainer.
What's your current height and weight at this point?
I'm like 6'8" and 242.
And what would you like to be by next season?
That's a tough one (laughs). I want to get bigger, but I don't want to lose any explosiveness. I want to add explosiveness.
Right, right. There's a fine line. I saw where D'Vauntes Smith-Rivera looked a lot more explosive this season because he cut down on his body fat, but he's still kept most of that strength that helps him power past other guards.
Yeah, so just get bigger, but not lose any of that explosiveness.
What are some of your favorite movies and music?
Any old sports movies, action.. I love comedies also.
I can definitely tell you like to laugh.
Yeah, and in terms of music, probably say a lot of Drake, Wiz Khalifa, Wayne, a lot of things. I like to listen to J. Cole.
Jay-Z?
Yeah, Jay-Z, of course.
Can you talk about playing with Zach Peters (Peters is his 6'9"AAU and HS teammate, who is verbally committed to Kansas)?
He's a great player and he helps because you can't really double-team both of us. It makes a lot easier on the court. You get a lot of easier baskets than if there was just one guy. 
How did you choose Prestonwood?
My AAU team, we all went there in 7th grade, I was say..and then a lot of us split up in high school. They said we had to split up. There was some kind of rule.

That's a strange rule.
(laughs)Yeah, I'm not sure what it was, but there was some type of rule and I ended up staying and that's okay.
One of the people you mentioned before that came to visit you was Coach K. Can you talk about that and what you know about the program?
Yeah, that was the first time I met Coach K. It was a really cool experience.
Did you speak with him?
Yeah, I spoke with him and it was really cool. He's a funny guy.
Yeah, he's got a Chicago accent, too.
Yeah, and he's a lot bigger in person than he looks like on TV. He's a really cool guy. I enjoyed it. It was a neat experience being able to meet him.
In terms of visits, what schools have you visited and what schools do you have planned?
So far, I've visited North Carolina, Texas, Oklahoma, Missouri, Kansas, Baylor, and Kentucky is all that I can think of right now.
And lastly, getting back to Duke for a moment, what do you know about the University and the program?
They win. They win and they put out great players. Winning is always something I love to be a part of. So, the winning is definitely a big priority for me in my decision and also, they've got great academics and that's also a great help for them.
Thank you very much for your time.
No problem. [/private]