The following is a question and answer session with Duke commitment Mason Plumlee which took place after his teams victory.  Plumlee discusses his match up with Ryan Kelly, his brother Miles and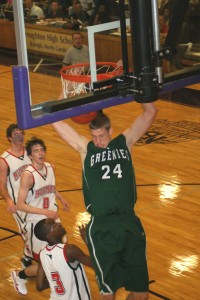 Marshall, his teams play, his spectacular dunks in his first Glaxo game, what the Duke coaches have him working on, his love for the Triangle area and much more in this exclusive one on one interview.
Let's back up to the Chic-Fil-A tournament where your team faced Ravenscroft.  A lot of people wanted to make that game out to be Mason Plumlee vs Ryan Kelly, both of you Duke commitments.  Were you more pumped up for that game than normal?
I was more-so because Ravenscroft was a team ... they were undefeated, we were undefeated and we just wanted to make our mark as a team.  Of course people try to hype up individual stuff.  We talked about it as a team ad decided we are going into every game as a team.  It's not us against them.  We had a game where one team had a kid that was going to a school that didn't offer Reggie, but we still attacked them as a team and not individual match ups. [private]
What's it like to have Duke Assistant Coaches Wojo and Collins watching you?
It feels good just to see them at the game.  It makes you want to play well, that for sure (smiling).  It's good to have them here.
I see that your parents are here and your younger brother plays along with you.  Are you finding a little time to relax with them during this time?
Yeah.  I've been with Miles the last couple of days.  We're getting to know Durham a little bit.  I like it down here.
What has Miles told you about his freshman season at Duke?
He just said it was a lot of work.  He's glad he went to Christ School because it's prepared him for college as best it could be.  But he said college is a whole other animal in terms of his studies.  He's in Engineering
That's biting off a lot as a freshman ...
Yeah, he just says it's tough to balance school and basketball.  He loves it at Duke.  That's never been questioned.
You seem to have added more to your game.  What was going through your head when you threw down that reverse dunk?
(laughing)  Maybe not in this game but when you play against so many athletes and stuff where people try to block your dunk from behind, if you go under the rim you still get the dunk in.  I probably didn't need to do it, but whats wrong with something different?
The crowd loved it ...
Yeah (smiling)
Has the staff told you to work on anything in particular?  What have they said to you?
Coach K saw me in my final game of the Chic-Fil-A and he wants me to play with my back to the basket and get a better feel down there.  "Get my behind on the block," he says, so (smiling)
Are you having a good time in high school or are you anxious to get to the next level ...
I'm loving every second of it in high school.  I love my team, I love my coaches and I want to enjoy every second.  I'm looking forward to Duke, but I just want to live in the moment.
Tell me a little bit about Marshall.  Whats going on with him these days?
He's trying to live the day, but he's been working hard.  He hasn't come into his own completely which is obvious.  But he always plays hard getting rebounds and blocking some shots.  He'll just keep getting better.
Do you guys ever work out together?  What routines are you going through to build yourself up?
There are a couple of people on the team who are always working on their game.  It's obvious who wants to get better and we work hard in high school.  We go hard in practice, but outside of that we are always in the weight room or doing skills stuff.
Coach Gaines admitted to me that you guys were looking ahead to that Oak Hill game a little bit.  What are your thoughts on that?
I was upset after the game last year because we lost by three.  If I remember right I missed three free throws in the second half.  So, it's just one of those games ... we only had two losses last year and that's one of those games we shouldn't have lost.
So, how are your parents liking the area?
They like it.  They moved down for the week.  Where we are from ... it's kind of boring.  I'm trying to talk them into moving down here, but only if they can.  I love it here.  We did some last minute Christmas shopping ... it's a nice area.
Are you looking forward to the challenge against Kinston and UNC commitment Reggie Bullock?
It's going to be a good challenge and we are looking forwad to competing and hopefully winning this tournament.  That's our goal.
Thanks for your time.
Thank you! [/private]