[private]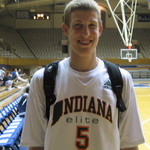 Blue Devil Nation is the place for updated information on high school games involving Duke Commitments and recruiting targets. This season we will track the progress of, and post weekly updates on, future Blue Devils: Mason Plumlee, Ryan Kelly, Andre Dawkins, Josh Hairston, and Tyler Thornton; plus targets Harrison Barnes, Josh Smith, Brandon Knight, and John Wall.
Mason Plumlee and Christ School have opened their season with four victories. The Greenies defeated Veritas Sports Academy 87 – 58, Asheville High School 89 – 46, Blue Ridge School 76 – 61, and Porter-Gaud 73 - 50.
In the season opener, on November 15, Plumlee's stat line against Veritas was seven points, six rebounds, four assists and three blocks. On November 18, he exploded for 28 points and 11 rebounds in the victory over Asheville.
Christ School played back-to-back games on Friday, November 21, and Saturday, November 22. Against Blue Ridge School, Plumlee scored 13 points and blocked four shots. He put up a double-double of 10 points and 10 rebounds against Porter-Gaud Saturday afternoon.
Christ School will return to action on December 2, against Spartanburg Day School.[/private]