In less than one month's time, incoming Duke freshman Quinn Cook will arrive in the Gothic Wonderland known as Duke University.  It doesn't seem like that long ago when I first talked to Cook as a sophomore at DeMatha.  With his grandfather lovingly hovering in the background, young Quinn answered each of my questions in a polite and concise way.
Needless to say, he made a good impression on me.  Even then when asked about Duke, he glowed.  Cook grew up a UNC fan but, as time went on during the long and arduous recruiting process, he came to know that Duke was the best fit for him.
I also remember the first time I saw Cook in action, when he played for the U-16 D.C. Assault team during the Boo Williams event when he was just a rising sophomore.  He put his team on his back on his way to leading them to a comeback win against a more talented squad.  Cook showed off his leadership skills that day and he had that special look of determination in his eyes, something you cannot teach.  He was simply unstoppable down the stretch on his way to 26 points and 8 assists.
Cook went head to head while at DeMatha with the likes of his future teammate, Tyler Thornton, and UNC PG, Kendall Marshall, so he is already a bit familiar with some of the players he'll face in the Atlantic Coast Conference.
Going into his senior season, Cook felt going to Oak Hill Academy, an institution known for its disciplined school and powerful basketball team, would be the right choice for him in order to prepare for college.  Cook was slowed by a knee injury during his senior season and Oak Hill, which is in the middle of nowhere and where cell phone signals come and go with the wind, had few facilities to do any major rehab work.
Cook reached deep during this time, often gaining strength from the memory of his beloved father, who moved on with an untimely death.  One thing nobody doubts about Cook is his heart, one which he wears on his sleeve.
As you read the following interview, you will surely see his character shining through.  He is not talking, "I am going to come in and start from day one."  Nope.  Instead, he is talking, "I want to come in and be the best I can be and do whatever it takes to help my team."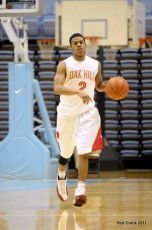 So, what have you been up to since the All Star games?
I just finished up my school work and graduated and I've been trying strengthen my knee up.  I'm no longer a high school student, so I'm just getting ready for Duke.  Graduation was cool, my family came down, maybe like 50 people, my Mom.  It was special because they got to see what I went through this year at Oak Hill.  They were shocked to see what all I wen through and I was just happy they were there.
A proud moment ...
Yes, very much so.
And I think there was another person [His Father] looking down from above that was very proud of you as well.
No question.
You'll be arriving on the Duke campus soon enough.  Is there a date set yet as to when you'll arrive.
If I'm not mistaken, we'll get there on July 1st.  I know Tyler, Josh and Andre are already up there.
Yeah, especially Tyler [Thornton] because I played AAU with him and faced him in high school at DeMatha as well.  And Andre [Dawkins]?  I've known him for a while.  And Seth [Curry] I'm real cool with him.  I talk to all of them here and there because I'm excited to be a part of the Duke Family.
Duke is also in the process of recruiting a lot of who might be your future teammates, do you get involved a bit with that?
Yeah, you know, definitely a little bit.  Guys like Shabazz Muhammad and Tony Parker you know.  It's not like I'm recruiting them real hard, just trying to tell little jokes out there.  I want them to make their decision on what is best for them.  I would never pressure a guy hard to come to Duke but I let them know what is cool about it.
You had a knew injury which slowed you down.  Whats been up with that?  How is it coming along?
I tore my meniscus in the Mobile 24 game and I played all season on it before ever really letting it heal.  After the Nike Hoops summer game my knew was really swollen and it was hard to walk.  I then got an MRI and saw that it hadn't healed yet but didn't see anything new.  So, I have been out a month but finally got back to playing recently.  My knee feels good right now but it still needs some time to heal so I can get back to full strength.
Well, one reason to look forward to being an athlete at Duke is that they have one of the very best medical staffs and facilities in the country.
Exactly.  And at Oak Hill, there are not a lot of facilities or much of nothing., so it'll be great to have the best medical staff in America on my side.
Well, Duke is obviously looking for a point guard next year with the departure of Kyrie Irving to the NBA, where he'll likely be the top pick.  Is it your goal to start at the point from the word go?
My goal is not to necessarily be the point guard, but just to get on the floor.  There is a lot of talent there.  They have a PG in Tyler Thornton there already and he's my brother and a great guard.  He will be there to push me and make me better.  That's what he's been doing for five years, pushing me and making me better.  Going in, I am not trying to think I am the point guard, I just want to get better as a player in person and everything will fall into place.
Now, you've played against a lot these guys in the ACC before.  Down at UNC, there is Kendall Marshall who you played against all through high school.  Are you looking forward to going against him for the first time?
Yeah, I mean it is going to be fun.  I've known him since I was eight years old and while I was at DeMatha we were rivals you know.  I played him about three times a year so going up against him again is almost surreal.
We all know Oak Hill is a tough  school.  Do you ever look back and wonder if the transfer was the right thing for Quinn Cook?
I honestly think it was the right decision, so I definitely got better in the class room at Oak Hill.  I got more focused kind of an in my heart I felt it was the best decision for me to go and get away from D.C.   Oak Hill is like a college.  You go on the road a lot and you have to be responsible for the schoolwork you missed and it really helped me going into my freshman year at Duke.
Now, one of the Duke coaches that worked with you during the process was Nate James, a D.C. product himself.  They've recently added Jeff Capel who was a PG at Duke, the former Oklahoma coach to the staff, so that is a great addition.  Plus, Nate will still be around and quite involved with the program as well. 
Oh yeah.  He's a great addition and was a good coach at VCU and Oklahoma and I had a chance to meet him this summer when he coached the our USA team  He knew then Duke was on my list and now that he's on staff?  It's just goog that he is there adding another great coach to an already great staff and that just makes the organization better.  He played at Duke and coached at a high level, so he know everything.
One last quest Quinn.  What do you look most forward to when arriving and being on the Duke campus.
Just being a college kid.  Being alone and all and being responsible for everything.  Getting up to go to class and go to workouts.  So, just being a college kid for you only get that chance once in life and I'm going to take it all in.
Join BDN Premium and hear more talk about Quinn Cook and discuss the latest with fellow members on our subscription only message board.