I had an extensive interview with Ryan Kelly in A.E. Finley gym this morning about the recruiting process -
What was it about Duke you liked?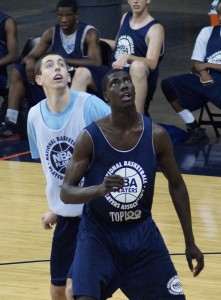 Duke academically and sports wise for basketball can't be beat.  The two of them together ... I felt very comfortable when I was at Duke with all the players which made it easier and I went with my gut feeling.
You have taken several visits to Duke of late ...
[private] Really, I haven't visited Duke that much.  I wanted to make the visits as equal as possible.  Going into this past weekend when I sat down and put it all out, all of the schools were even.  My parents and Coach Billerman told me to take my time and to let them know when I was ready to make a decision.
When did Duke get back involved with you?
It got a little sporadic.  Coach K was there to see my 1000th point at Durham Academy and then they came on pretty heavy this summer.  Especially with me being involved with Team USA in Vegas.
You have gone up against a future teammate several time in Mason Plumlee.  Are you looking forward to the match up this season?
Well he's a great player and it's going to be really fun playing with him.  We are different players and we do different things.  It will be neat going up against each other.  Hopefully, we will see each other in the state championships and then at Duke.  It'll be something we can look back on.  I had a great time with him in Argentina - he's a really great guy.
When did you actually make the call to Coach K telling him you wanted to be a Blue Devil?
It was Wednesday night.  He was excited for me and glad I made the decision.  He said he thought I made the best decision.  I told him I was certain and had no remorse and he was really proud I felt that way - feeling very comfortable with it, he was happy and looking forward to being my coach.  Coach K had basically told me to hold off and not make any decisions before he left for China, just so he could have the chance to sit down with me.  I was going to wait anyway.  It wasn't time to make a decision for me and once he came back we had a chance to sit down.
Has Coach already talked you about what he would like for you to work on?
Oh certainly.  The main thing is strength and just getting stronger.  He doesn't want me to build up too much.  He doesn't want me to be 250 pounds, just to be lean and strong.  Hips are very important  when it comes to talking defense - staying in a defensive stance, exploding, rebounding, exploding up for dunks.
Did your family help with the decison making process?
It was my decision.  I'm sure if he hadn't sold my parents it would have been different, but they're happy.
Now that you are part of the Duke family, will you hang on campus, play in the practice facility, etc.?
Oh yeah.  I'm sure I will go over there to play in an open gym - to talk to the guys and get more comfortable.
Have you heard from any players since last night?
Elliot called to congratulate me ... Gerald Henderson.  I'm sure I will hear from more of them.
I know you have played with Kenny Boynton and he's at the top of Duke's list.  What are your thoughts on him?
I would love to play with him.  He's a great kid and a great player.  We played twice out in Vegas and we split.  I would love to play with him and see him come on out to Duke?
How did the games pick up games go?
They were really intense ... just more intense than anyone else to be honest.  They wanted to win more than anything and I saw that.  When guys are trying that hard in a pick up game you are going to get better quicker than anywhere else.  I can see myself becoming the best player I can be over there.
Do you have a go to move?
When I really want to score a basket, I go inside and go with a baby hook.  When I go outside, the move that I use the most is a pull up jump shot or a spin move.  I have a decent array of moves ... I work on different shots in different spots, like with the gun (passing machine) I do a lot of off the dribble, go to moves ...
Is there a sense of relief?
You know, it's relief, but it is also excitement.  I have laid a pretty good path out for myself and it's exciting.
So, your family is okay with the decision?
I did and my family was excited.  They would have been happy wherever I went.  My friends are excited that they will be able to watch me.  I'm sure there are some fans out there who won't like me ...
Carolina fans?
Well, they will stick to Ryan two games of the year. (laughing)
What three words would best describe Ryan Kelly as a person?
Nouns or adjectives, here? (laughing)  What I said to ESPN, was my integrity, my drive to excel and my faith.  I bring those to the table and they won't go away.
Tell me a little about what faith means to you?
For me it's a belief in God.  He's going to put me in the right place.  When I come into the gym or into a game, I pick out two seats.  One for where Jesus is watching me and one for where my Grandpa is watching me.  No matter how good or how bad I will do they will always be there.  I prayed for it was the most important decision I have made in my life so far.  The next is my wife ... (laughing).  It was important for me to pray and people prayed with me about my decision and I was led to the right place.
Did this translate at Duke?
Um, I know there will be some different beliefs or religions.  But moral character is important as well and Coach K certainly had that.
Why make the decision on ESPNU?
It just kind of worked out.  Amazingly it was good timing.  They had wanted to get the notice for it was their first show.
What three words or phrases describe you on the basketball court?
Hard working, a good teammate and I hope I can say a good player.
There was a lot of surprise when you announced Duke as the sixth team on the list when they haven't been there for awhile ...
They had been talking to me for a long time.  There was a renewed interest.  They saw I had developed quite a bit and my ability to play the 4-3 spot like Mike Dunleavy.  When they got to see me in an open gym, Coach K just saw a different player and it moved from there.
What are your team's prospects for the coming season?
I am looking forward to this season.  We're going to be really good.  We have Matt Wilson, a 6-11 center who just committed to UNC-W.  We have some more guys including Billerman's son, a shooter.  We also have a Broughton transfer Luke Davis who will play the point and anchor us a little bit.  We are trying to win a state championship.
Describe Coach K for me?
For me I'm still getting to know him.  I think he is very truthful and honest and very Father like.  He runs around and does a lot of stuff, but he still takes the time to show you everything.  I've dealt with some really great coaches, but he's the best coach.  It was hard to tell the other coaches but they all handled it really well.  Once the decision was made, it was a real relief.
Did getting to know the Duke players play a big role?
It was very big, but I thought it was going to be a lot bigger.  I learned a lot about myself in that I can get along with a lot of different people.  When you go on visits, they all act like they like you.  In the end it comes down to getting that feeling of being comfortable and I felt that with Duke.
You were able to attend some classes.  Were you comfortable in that environment?
It's very similar to Ravenscroft.  I knew how great everybodies academics were in the final six, so it really came down to feeling comfortable. [/private]