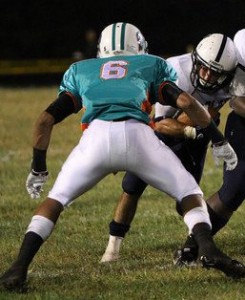 When you're the head coach of an ACC football program, it can be hard to get away. Duke Head Coach David Cutcliffe knows the feeling, as he and his family have been on vacation this past week, while his phone has continued to ring with prospects wanting to commit to the Blue Devils. On Saturday, Coach Cutcliffe received the good news from Michael Westray, a 6'2" 185 pound safety prospect from Westlake HS in Waldorf, Maryland. Duke fans should be familiar with the Westlake program, as it is also the alma mater of freshman Duke LB Jon Woodruff. After playing primarily defensive line at Westlake, Woodruff is making the transition to linebacker at the college level. The newest Blue Devil, Westray, will make a similar move, as he slides over to safety after playing mostly cornerback in high school. Westray earned offers this summer from Duke and North Carolina State after impressive performances on the camp circuit, where he was clocked with a 4.4 second 40-yard dash. Prior to his commitment, Westray had also received interest from Maryland, Penn State, Pittsburgh, and Wake Forest. The Duke coaching staff is excited to see Westray develop at safety, and believe they have stolen two very good prospects out of Maryland this year in Westray and DE Allen Jackson. Blue Devil fans can get a look at Westray's junior highlights here.
BDN caught up with the newest Blue Devil over the holiday weekend.
BDN: How did you arrive at your decision to commit to Duke?
Duke has always been there from day one, as part of my recruiting process as a player, as a student-athlete. They were one of the first schools to show me attention and they've been showing it consistently. My recruiting coordinator, Coach Zac Roper, has been very close to me, my head coach, and my family as a whole. That's been a big part of my commitment. I've been to the campus twice, once for the camp and one on an unofficial visit. I enjoyed myself both times, I enjoyed the coaching staff and I enjoyed the whole vibe I got there. Another thing is one of my teammates from last year commited to Duke as well, Jonathan Woodruff.
BDN: How did you inform the Duke coaching staff about your decision and what did they say to you?
I was in the office of my high school head coach, and we called Coach Cutcliffe. He called Coach Cutcliffe directly and I said, "Coach, I want to be a Blue Devil." He was excited, he was on vacation actually, and he said "well my vacation is going to be a whole lot better now, my dinner is going to taste a lot better tonight," and stuff like that.
BDN: You've played all over the field in high school. Where do the coaches see you fitting in at Duke and what do you hope to bring to the program?
They put me at safety and I really hope to be an impact player for the team, get after this ACC championship.
BDN: Now that you've made your decision, what are your plans for the rest of your summer?
I'm just focusing on my football team, my high school football team, preparing, lifting weights, things like that.
BDN: Thanks a lot, Mike, and welcome to Duke.
Thank you.
Join BDN Premium to discuss the newest Blue Devil and all things Duke Football on our Premium Message Board!