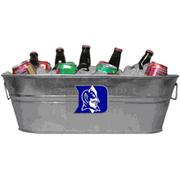 Two weeks of Football Friday in a row? For what do we deserve such fortune, you ask? I guess it just seemed like the right thing to do. Or maybe because it's New Beer's Eve, one of America's terrific obscure holidays. In all seriousness, though, thanks for reading and please spread the word that Blue Devil Nation is home of the best Duke Football coverage around.
Spring Game Recap
One - okay, three - important points to remember about last Saturday's scrimmage.
1. It's a spring game. The team is a work in progress; September 1st is still nearly five months away.
2. It's a spring game. Several starters did not play; players with injuries have plenty of time to heal.
3. It's a spring game. Duke played against Duke; who knows how they'll look against another opponent.
All that being said, there was plenty to be excited about and a number of things to be concerned about based on Saturday's performances. If you haven't checked them out already, be sure to watch our video interviews with Coach Cutcliffe, Sean Renfree, Ross Cockrell, and David Reeves to get their thoughts on Duke's spring.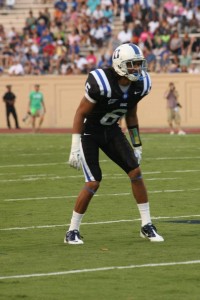 The Good
Honestly, I don't think it was a fluke that the starting defense outplayed the starting offense. Even without Kelby Brown, August Campbell, Kenny Anunike, and Jordan DeWalt-Ondijo, the white team defense took it to the blue team offense. And it was a balanced effort. The secondary, crucial to Duke's 4-2-5 scheme, was particularly encouraging. Brandon Braxton looked comfortable at safety and led the way with 5 tackles, a number that was matched by his replacement, redshirt-freshman Chris Tavarez, who also forced and recovered a fumble late in the game. Jordon Byas and Walt Canty, two veterans at safety, also had strong efforts, each adding 3 tacklesincluding a tackle for a loss by Byas. Cornerbacks Ross Cockrell, Lee Butler, Anthony Young-Wiseman and Tony Foster held the blue team's top receivers, Blair Holliday and Jamison Crowder, without a touchdown and to just 4 total catches on the day. Of course, it was Cockrell's forced fumble on Josh Snead that was the play of the day and earned him defensive MVP honors. Kyler Brown and David Helton added strong performances from the linebacker position, and the Blue Devils will need them to continue to matuer ahead of schedule this fall. Duke was able to pressure the blue QBs from a number of positions, as DE Jamal Wallace registered a sack, while Braxton, Cockrell, and LB David Helton all were credited with a QB pressure. As with all things, it's far from perfect, but the overall defensive effort appeared to be a big step in the right direction heading to the fall.
On the opposite side of the ball, there were plenty of flashes from individual players, but the blue team offense never seemed to be clicking on all cylinders - yet. Brandon Connette, the offensive MVP, certainly had a strong performance, highlighted by two powerful runs through the teeth of the defense to put the blue team on the scoreboard for the first time all afternoon, halfway through the 2nd quarter. Of note, he was also an efficient 4/7 through the air for 83 yards, including a 27-yard TD strike to Josh Snead. Speaking of Josh Snead, it was great to see him healthy and focused. His burst and speed was something that was lacking in Duke's running game a year ago. All indications are that with the return of Snead alongside last year's leading rusher Juwan Thompson and senior Desmond Scott, this should be Duke's strongest running game under Coach Cutcliffe. We certainly saw flashes from some other players, such as David Reeves and Will Monday, all of which were encouraging. Perhaps most encouraging, however, was a glimpse at the increased tempo and diverse schemes utilized by the blue offense. It's all still a work in progress, with much more to be added in terms of personnel and plays, but opposing defenses should have a lot to prepare for against this year's Duke offense.
And finally, a look at the future. With the way the teams were divided, it was hard to take much of anything away from the matchup of the white offense against the blue defense, as both units were comprised primarily of walk-ons. Several walk-ons did have strong efforts, and it wouldn't be surprising to see guys like Chris Hoover, Brandon Watkins and Eric Adams eventually play a few snaps in limited situations. Their blue-collar efforts are to be commended, and it was great for them to receive recognition. The scholarship players on those units, however, provide a nice glimpse into the future of the Blue Devil program. Obviously, freshman Thomas Sirk is the most notable, and he played well on Saturday. But before we crown him the starting QB, remember that most of his snaps came against an inexperienced defense and he still only played one year of quarterback in high school. All that being said, Sirk has the tools to compete for snaps in 2013, and given the depth issues at wide receiver, it's too early to rule out lining him up out wide at some point this fall. Another strong performance was put in by redshirt-freshman WR Nick Hill, who has an excellent opportunity with the recent loss of senior WR Tyree Watkins. Defensively, Tim Burton, Britton Grier, and Sam Marshall all piled up tackles; they will push the starters on the depth chart for sure this fall, but realistically may be a year away from significantly contributing.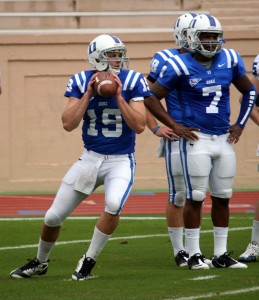 The Bad
Ok, let's get it out of the way. Sean Renfree had a forgettable spring game. He finished 10/23 for 104 yards with 2 interceptions. His first interception was a poor throw that shouldn't be made by a redshirt-senior QB; the second was slightly more forgivable, as the ball appeared to be tipped into the waiting arms of Kyler Brown. Most concerning, however, was the apparent lack of rhythm with the new offense, and the lack of chemistry with some of the younger wide receivers. Fortunately, Renfree is his own biggest critic, and one of the hardest workers on this team; fully expect for him to put in the work to be ready for a strong senior campaign. After a big spring, WR Blair Holliday didn't have the breakout performance many expected, and he and Jamison Crowder will have to emerge as consistent threats if Duke is to have any success moving the ball this fall.
The other biggest concern of the day was the play along the line of scrimmage. Neither the offensive nor defensive line was able to control the game, and I think there's still a lot of work to be done along both units. The offensive line needs to get Brian Moore back at center, and the hope is that this group will be able to stay healthy and consistent this fall. They will have to be a stabilizing force for a potentially dynamic and at times unconventional offense. The defensive line remains the big weakness of this team, overall. Brandon Connette exposed the weakness up the middle on two big runs in the 2nd quarter. Hopefully, the return of Kenny Anunike and Jordan DeWalt-Ondijo, along with another year under Coach Petri, will allow this group to take a big step forward this fall.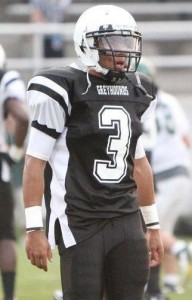 The Awesome
Come on, you didn't really think I was going to end on a down note, did you? I thought it might be more fun to discuss recruiting than to argue over whether or not to renew your season tickets, debate the temperature of the leather chair in Coach Cutcliffe's office, or complain about play-calling. Just my opinion. I'm sure you can find a place to discuss those things.
As for recruiting, Duke locked up two more verbal commitments over the weekend, solidifying the defensive backfield in the class of 2013. Safety prospect Jake Kite is receiving rave reviews for a highlight video that has basically gone viral throughout the Duke Football fanbase. At 6'1," the junior from Roanoke packs a heavy punch, and Duke fans should be very excited to watch this young man bring down opponents in Wallace Wade Stadium. About a month ago, BDN spoke with a little-known sleeper prospect from Nash County in Dequavais Mann. At 5'9" and playing multiple positions for a Northern Nash team that finished 2-8 last year, Mann's recruitment got off to a slow start. That changed quickly when the junior athlete posted a 4.42 second 40-yard dash at a recent combine, and showcased his abilities as a lockdown defender. Mann started lining up visits, starting with a return trip to Durham for the Duke Spring Game. The Blue Devils extended a scholarship and it took just two days for Mann to offer his commitment to Coach Cutcliffe. And the staff is keeping the pedal to the metal, hosting top Pennsylvania QB Chavas Rawlins on an unofficial visit in Durham yesterday.
Don't expect things to slow down anytime soon; we're just getting started. The spring evaluation period kicks off on April 14th and lasts through the end of May, nicely coinciding with most high school spring football schedules. With their own spring practice behind them, the Duke staff will be out in full force, evaluating dozens of prospects and checking up on others. We'll then reach the height of the recruting season in June, as Duke hosts their annual football camps, an opportunity for serious evaluation for both the prospects and coaches. So in other words, if you want to keep up with the latest in Duke Football, now would be an excellent time to try out a BDN Premium Membership. Ok, that's my pitch for the day.
I know, these columns get wordier and wordier. Though in person I'm known for brevity, my writing clearly is not. Check back next week for another helping of Football Friday, provided I am able to purchase a new ribbon for my typewriter. In the meantime, enjoy the Masters for you golf fans, Happy Easter to the Christians, and regardless of your interests or beliefs, I hope you all enjoy National Beer Day on Saturday. WE ARE DUKE.