So, you just got back from a visit to Duke.  Can you tell me a little bit about the visit?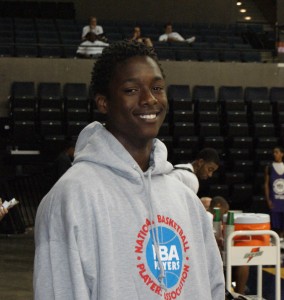 I thought it was great to down there and get a full feel of just what Duke University is all about and what the basketball team was like and how the players were treated.
What was the atmosphere like?
I would say that they act in a very professional manner.  Academically?  It rates really high for them and that the players there are treated with a lot of respect from Coach K and the staff as a whole.  I thought the practice facility was very impressive.  They had two gyms in there and that was nice.  They also had a very large weight room.
I understand you sat with 2010 commitment Andre Dawkins during the game ...
[private] Yes, I met Andre during the LeBron James Camp.  So, we've had a chance to become friends for awhile now.
He told me during a recent interview that he gave you a call after Josh Hairston and Tyler Thornton became future Blue Devils ...
(laughing) Yes, it is.  He wanted me to join in with them as well.  I told him that I was going to take my time.
Do you know Tyler and Josh?
Yes, I got a at the chance to meet Tyler at the Nike Hoop Jamboree and I met Josh there as well and the NBA Players Association Camp this year.
I understand it was parents weekend and that the Cameron atmosphere was far from what it normally is during your visit.  Did that bother you that the Crazies were a bit scattered and not up to their usual standards?
Andre actually explained most of that to me.  I have not seen the Duke Atmosphere in a full game.  But it was nice with the community repore and the little sections that were there to see how excited they were.  So, it gave me a good idea of what a game would be like.
Man, he's quite the recruiter, isn't he?
Yes, he is. (laughing)
Did you talk with any other prospects or commitments?
Ryan Kelly and I talked a bit.
Your family payed out of pocket to come on an unofficial visit which was probably pretty expensive.  What was your reasoning for visiting Duke as one of just two unofficial visits? 
Duke has been very consistent in their recruiting of me.  I felt that it came to a point in our recruitment that they deserved a visit, so I went down there.  I just wanted to get a feel for what the university was about and to see Duke University up close.  What they had been telling me on the phone was what the university was actually like.
What are your thoughts on Coach K?
I think he is very humorous as well as very personable.  I think he's easy to talk to (it was his first face to face discussion with K) and that overall he's just a really good guy with very good morals.   I felt that it was very team oriented both on the basketball court and off.  I felt that Duke had a very good family environment where they all watched out for each other.
Who has been the primary contact person from Duke?
Coach K has been the primary recruiter.
Did your Mom and sister enjoy the visit to Duke?
Yes, they thoroughly enjoyed it as well.  We all felt it was a great time to meet the team and coaches and get to know one another.  We're just getting to know each other now and then we'll see where this all goes.
Is there a timeline on your decision?
I'm not in any rush.  After the high school season I will get back into the process.  Right now, I'm in no hurry to make a decision.
What stood out on your Kansas visit?
It was just a great experience to see a sold out arena and the support they get in general. 
How far is Aimes, Iowa from KU?
I live about three and a half hours away.
Will proximity come into play?
Right now, distance is no factor.
Let me make sure I have this right.  When are you likely to make a decision?
After my official visits
... and will you take all five allotted officials?
I have not determined how many I will take yet
Which schools have been the most proactive in your recruitment?
Duke, Kansas, Iowa State, Florida, Oklahoma are the ones that come to mind right now.
What impressed you the most about Duke?
Mostly the academics
How important is academics to Harrison Barnes?
It's a key for me because I want to go to a university that will set me up after my career.
I appreciate your time and wish you the best of luck in the process.
Thank you.
According to sources close to the team, Harrison Barnes spent two full days at Duke.  The visit went very well from the staffs standpoint and the feeling is that he enjoyed himself enough to make Duke one of the favorites in the race for his services.  He was able to attend class rooms, talked with K extensively and play a litlle pick up among other activities.  Members - talk about this on the BDN Premium (members only) message board.  If you are not registered, you need to do so in order to get the full effect of BDN Premium. [/private]