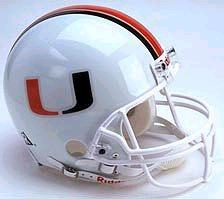 The Blue Devils will finish up the 2011 season playing three of their final four games on the road, starting with their second trip to South Florida on November 5 to take on the Miami Hurricanes. Despite continued turnover struggles, Duke nearly knocked off "The U" last year in Durham, ultimately falling 28-13. While all eyes are on the Miami program's off the field issues, we'll keep this preview focused on the Blue Devils' 2011 opponent on the field. Of course, that can be hard to predict at this point, with 12 Miami players under investigation by the NCAA for eligibility concerns.
To help us straighten all this out, BDN is pleased to welcome in Chris Stock from InsideTheU.com to give us an inside look at the 2011 Hurricanes.
BDN: We could talk for hours about the various allegations against the Miami program, but we're here to preview the 2011 Hurricanes. With that in mind, how do you expect the investigation to affect the 2011 Miami season? Which current players might be ineligible or suspended, and how does their potential absence alter the expectations for this fall?
Regardless of who plays there is talent on the team.  If everyone is eligible, this team has the capabilities of competing for the ACC crown.  Now, we have been saying that for a number of years and it hasn't happened, but first-year coach Al Golden appears to be onto something and the players appear to be buying in.  There's no question the investigations can affect the team and the defense could take a hit, but there's still reason for optimism in Coral Gables.  Lamar Miller has the ability to ease a lot of stressful minds and he's nowhere near the investigation.  If quarterback Jacory Harris is deemed unable to play, Stephen Morris will be ready to go and with a solid offensive line, that will help tremendously in terms of putting together a successful season.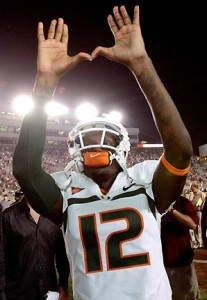 BDN: Talent never seems to be in short supply at The U, but that talent didn't always translate into wins during the Randy Shannon era. What are some of the most important changes that have been made under new Head Coach Al Golden, both on and off the field?
Communication and organization are two key factors Golden has stressed.  These are two areas coach Shannon struggled with during his four years as the head coach.  Players now have a clear understanding where they stand on the depth chart and the program as a whole is more organized.  When it comes to on-field production, I think you will see a more inspired unit playing an intense brand of football from the opening whistle regardless of the opponent.  This was clearly not the case in recent years, which led to a number of losses.
BDN: Miami has been haunted by turnovers in recent years, and it has started at the quarterback position with Jacory Harris and Stephen Morris. What have been the reports from training camp on the play of the quarterbacks? With one of the conference's top rushers in Lamar Miller, what do you expect from the Hurricanes' offense in 2011?
Miami was last in the country last year throwing 27 interceptions.  That's far too many especially considering the quarterbacks they have in Harris and Morris are very capable of being solid, dependable players.  Throughout training camp, the quarterbacks have thrown a very limited amount of interceptions.  In two scrimmages, the quarterbacks threw over 100 passes with just one interception.  That can be a double-edged sword as the defense failed to disrupt the passing game, but for a unit that was dead last a year ago, it has to be considered a positive sign.  UM led the ACC in total offense last year, but was just fifth in scoring offense.  Cutting back on penalties, which UM ranked among the nation's worst, will be a key this season as well and I expect that to happen.  Miller will have a breakout season and back-up Mike James will provided steady play in a rushing attack that should pace the offense behind a big offensive line.
BDN: The Miami defense showed improvement in nearly all categories in 2010 from the previous year, and returns 7 starters in 2011, led by LB Sean Spence. What are the key question marks for this group in training camp, and what will be the strengths of new DC Mark D'Onofrio's defense?
The UM defense is a question mark especially considering eight of the 12 players being investigated by the NCAA are on the defensive side of the ball.  In particular the cornerbacks have a lot to prove after three left for the NFL last season.  The linebackers, led by Spence, should be solid although they are not the biggest group around.  The defensive line could be plagued by a lack of depth.  The strength of a Miami defense is their speed, which they will have to use to their advantage.
BDN: Despite a significant talent gap, the Blue Devils have managed to compete with the Hurricanes in recent meetings. Why do you think Duke has had success against Miami? Do you think the Blue Devils are capable of pulling off the upset on Miami's Homecoming this fall?
Point blank, UM did not respect Duke and came out flat against them, which nearly cost them multiple occasions.  Also, former Duke quarterback Thaddeus Lewis had some success against UM.  If Duke were to pull off an upset, quarterback Sean Renfree will have to show plenty of poise, stay on his feet, and attack UM through the air.  The two teams don't play until November and a lot of things can happen between now and then.  For anyone to predict an upset by Duke, the Blue Devils will have to show they are capable of doing so before the UM game.
BDN: Thanks for your insight, Chris. Good luck this season!
Previous week: October 29, Virginia Tech at Duke
Next week: November 12, Duke at Virginia