[private]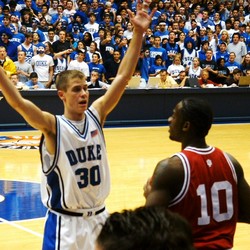 Duke returns a solid core of players from last year's 28-6 squad. Kyle Singler, a 6-8 220 power forward, was the ACC Rookie of the Year and 3rd Team All-ACC. Versatile 6-4 wing Gerald Henderson had a breakout sophomore season. Jon Scheyer was invaluable as Duke's Sixth Man playing the third most minutes and was the team's fourth leading scorer. Greg Paulus recovered from the injuries that plagued him as a sophomore, displayed a deadly 3-point shooting ability, and earned 3rd Team All-ACC honors.
The challenge for the coaching staff this season will be managing the five or six players required to support the solid core of Singler, Henderson, Scheyer, and Paulus. Which players emerge and secure spots in the rotation is a question which will be answered during intense practice sessions throughout the season. With 12 scholarship players healthy and available to compete, Duke is deeper and more experienced than they have been in recent seasons.
The first question is how improved will Nolan Smith be as a sophomore? He tallied 5.9 points in 14.7 minutes per game as a freshman and displayed flashes of greatness at times. In a key victory, on the road at Maryland, on January 27th, he scored 14 points and grabbed six rebounds in twenty minutes of action. His highest scoring game of the year was on February 17th when he dropped 21 points on Wake Forest. Unfortunately that was in a losing effort. Smith was slowed, down the stretch, by a hyper extended knee so his season statistics under represent his actual contribution on the court.
Duke is going to need Smith to be a consistent performer this season especially on defense. With defensive stopper DeMarcus Nelson lost to graduation, Smith is the likely candidate to draw the assignment of guarding the opponent's best perimeter player. With solid freshman to sophomore season improvement a la Gerald Henderson, Smith could emerge as a star for the Blue Devils. Smith is currently slated to be Duke's starting point guard. In recent comments, Coach Mike Krzyzewski stated, "Right now, Nolan would be a starter." With Smith in the starting line-up, it appears Greg Paulus will take over the Sixth Man role occupied by Jon Scheyer last season.
Next, is Miles Plumlee a viable option to fill the starting post player position? He has been especially impressive in early practice and the exhibition game against Virginia Union, a game in which he started, played 16 minutes, scored 14 points, and grabbed seven rebounds. With Plumlee slated to break into the starting line-up, it appears Duke is set to address their post presence short-comings of a year ago. Coach Krzyzewski on Plumlee, after the Virginia Union game: "Good hands, good feet, a shot blocker, runs and it's just a matter of him getting experience. He's got a great feel for the game. He's a very good athlete."
A center-by-committee of Miles Plumlee, Brian Zoubek, and Lance Thomas is a definite possibility. After the Blue-White game, Coach Krzyzewski praised Lance Thomas for his defensive pressure. "When he's in the game we need to pick up our pressure in the full court, because defensively he's outstanding. You have to give him the opportunity to use those talents when he is in there." Brian Zoubek has put up impressive numbers in limited minutes: five points and six rebounds in just 12 minutes against Virginia Union; 10 points and three rebounds in the Blue-White game. It appears all three players will get minutes and the opportunity to shine. Over the long haul of the season, their combined efforts should develop into a situation where the whole is greater than the sum of the individual pieces.
Before proceeding any further, it must be stated that Duke, like every other team, must avoid the injury bug. The past two seasons have been negatively impacted by injuries. Paulus broke his foot on the first day of practice in 2006, Zoubek broke his foot twice last season, Thomas suffered from a respiratory infection, Henderson hurt his wrist, the flu bug struck hard with inconvenient timing, and who knows what other minor injuries never leaked to the press. A healthy 2008-2009 season would be a nice change.
Finally, who will emerge to take over and secure spots as the ninth and tenth men in the rotation? Dave McClure, Elliot Williams, Marty Pocius, and Olek Czyz will be fighting for playing time as role players off the bench. All four of these players should have an opportunity to contribute early in the season, but when the ACC season starts competition for playing time will stiffen and it is not unrealistic to expect Coach Krzyzewski to shrink the rotation to ten players. Fifth year senior Dave McClure has the advantage of understanding the system, red shirt junior Marty Pocius is healthy and coming off a summer spent playing with the Lithuania National Team, and freshman Elliot Williams is extremely athletic. "I think he could be one of our better on-ball defenders," Coach Krzyzewski said. Freshman Olek Czyz is a natural athlete and a guy who will be looking to make an impact when given the opportunity.
Duke is in good shape to make a deep run in the NCAA tournament. The team has a solid core and a talented supporting cast. By avoiding the injury bug, having a ball or two bounce the right way, and improving as the season unfolds, a trip to Detroit and the Final Four is a realistic expectation for this edition of the Duke Blue Devils.[/private]