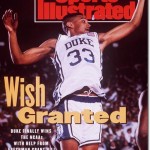 It was another hot summer day in Durham, North Carolina and I strolled into Sam's Quick Shop for a cool drink. Still a main stay for beverages for Duke students today, Sam's, a convenience store near campus, then featured a full newsstand.
Back in the corner was Grant Hill who has a penchant for reading the latest gossip in the Star and Enquirer. Dressed in long Levi shorts which were the thing in the early 90's, Hill like many other Duke Basketball players was a main stay at the location.
Anyhow, on another occasion, I saw him reading a magazine and for whatever reason I remember the cover featured an article on a young music artist named Tamia. At the time that meant nothing for me but the name somehow stuck in my memory and Tamia would eventually become Hills' wife.
That is but one of the many memories I have about Grant and probably one of the more impertinent ones for he was a true Duke legend, but somehow, no memories of Grant seem small.
Of course, the biggest memory for me was his amazing pin point accurate pass to Christian Laettner in that much ballyhooed win over Kentucky in one of the most famous games in history.
I remember going to Sam's the year before to buy a copy of the Sports Illustrated he appeared on which captured his amazing dunk over Kansas on the cover with his fade hair cut in play.  The team was like Rock Stars back in the day and there was no shortage of press for their accomplishments.
From G.Q. magazine to the many daily newspapers which still carried major weight back in the day, Duke players and Grant were the new kids on the block and in that day media darlings.  Perhaps, the success of the back to back teams, is a major reason why the guys who were considered and called "America's team," at the time eventually became more and more vilified, not much unlike the New York Yankees where you love them or hate them.
Grant Hill memories no matter how big or small are special to Duke fans. The aforementioned cover was of course the year before the "shot," or the "pass," in Hills case. And there in lies the key to why his memories are extra special.
As a freshman, Hill helped lead Duke to their first national championship under Mike Krzyzewski and the first one is always special.  Winning the first title legitimized Duke as one of the nations best and the rest is as they say history.
Before that happened Duke fans thirsted and dreamed of a national championship for their program and it would never have happened without Sir Grants' contributions.
Sir Grant! That has a nice ring to it and I suppose a retired jersey serves as a special reminder as to how good he was. But if Coach K were to "Knight," his players, Hill would certainly be one of them, if not the first of them.
Grant Hill has long held a special place in my heart as a fan and he is pretty much on equal ground with Christian Laettner as my all time favorite player.
Hill was one of the most talented players ever to wear the Duke uniform. In some ways he is the Blue Devils version of Michael Jordan in that his contributions have been immensely valuable to the program.
Some of you never got to see his exploits or the drive the contingent of Laettner, Hill and Hurley shared. Hill was a part of the first great Duke teams and at it's core. He was the glue guy and a player Krzyzewski never had to worry about being ready to play.
When you've been around as long as I have, special memories can almost run together over the years. In fact, it's overwhelming to think back on the beginning of the K era at Duke and to have lived it to this day.
But while some memories fade, those I have of Grant Hill no matter how small stick out. Things like when he returned to campus with the Detroit Pistons for s summer practice when Chis Collins's dad was at the helm.
No matter how insignificant any memory seems with concern to Grant, one would think that they  should all form together in some way where I can more easily express them in some special way.
But with concern to Grant, all I can really say is he was truly one of the most special players to ever come through Durham and no matter how hard I try, there is just no way to properly convey that through words.
Grant Hill recently announced his retirement from the NBA after a 19 year career