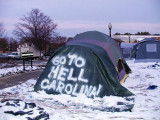 Football Friday comes to you fashionably late this week, and in abbreviated form so that you can get in line for Harry Potter early. Has anyone camped out for three months for seats to Harry Potter? I didn't think so. That takes real dedication. Here's to you, Cameron Crazies – and here's hoping to see all of you in Wallace Wade Stadium this fall.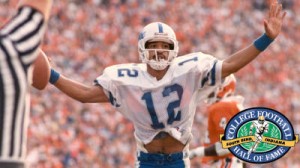 Clarkston Hines HOF 2011
Congratulations to Duke alumnus Clarkston Hines, who will be inducted into the College Football Hall of Fame in South Bend, Indiana. The ceremonies will kick off at 9:30 AM and conclude with a dinner and ceremony at 7:30 PM. The "Frequent Flyer" holds Duke records in receptions, receiving yards, receiving touchdowns, and 100-yard receiving games. He also holds ACC records in touchdown receptions and 100-yard receiving games. The 1989 ACC Player of the Year, Hines led the Blue Devils to a share of the ACC Championship and was named a first team All-American.
To put some of Hines' accomplishments in perspective, consider how his career compares to current Duke stars Donovan Varner and Conner Vernon.
Clarkston Hines (1986-1989): 189 receptions, 3319 yards, 38 touchdowns, 17 100-yard receiving games
Donovan Varner (2008-2010): 146 receptions, 1947 yards, 10 touchdowns, 7 100-yard receiving games
Conner Vernon (2009-2010): 128 receptions, 1719 yards, 7 touchdowns, 7 100-yard receiving games
While Varner and Vernon may have a chance to approach Hines' reception total, they would have to put up some impressive seasons to approach his yardage, touchdown, or 100-yard game records. It's clear that Hines is more than deserving of his enshrinement. Congratulations!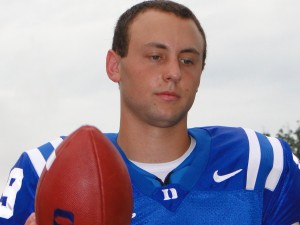 More preseason accolades
It wasn't that long ago when Duke was being shut out of most national preseason Award Watch Lists. Well, the times, they are a'changin. This year, it might be hard for you to keep track, so let us recap for you:
SAF Matt Daniels: Athlon Sports 3rd Team All-ACC
TE Cooper Helfet: Mackey Award Watch List, CFPA TE Watch List, Athlon Sports 3rd Team All-ACC, Lindy's Sports 2nd Team All-ACC
OT Kyle Hill: Athlon Sports 3rd Team All-ACC
C Brian Moore: Rimington Trophy Watch List
QB Sean Renfree: Davey O'Brien Award Watch List, CFPA QB Watch List, Athlon Sports 3rd Team All-ACC, Lindy's Sports ACC "Strongest Arm"
K Will Snyderwine: Groza Award Watch List, CFPA K Watch List, Athlon Sports 1st Team All-ACC, Lindy's Sports 1st Team All-ACC, Sporting News 2nd Team All-American, Sporting News 1st Team All-ACC
WR Donovan Varner: Biletnikoff Award Watch List, Athlon Sports 3rd Team All-ACC
WR Conner Vernon: Biletnikoff Award Watch List, CFPA WR Watch List, Athlon Sports 1st Team All-ACC, Lindy's Sports 1st Team All-ACC, Sporting News 1st Team All-ACC, Sporting News ACC "Best Hands"
Got it now? There's going to be a quiz at the end. Congratulations to the Blue Devils for their well-deserved recognition, but we know that it's the post-season awards that they're working to earn.
The Dondo Files
Speaking of Donovan Varner, don't miss episode three of The Dondo Files. "Adversity causes some men to break; others to break records." – William Arthur Ward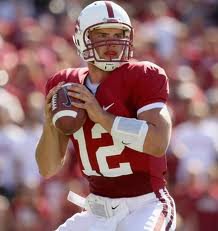 2011 Opponent Previews
In case you missed them, be sure to check out our previews of Richmond and Stanford. They're great reads and we are fortunate to have had the help of David Weissman and Hank Waddles to give us an inside look at Duke's first two opponents. As you might expect, we'll have a preview of Boston College, as well as Florida International, up this week, so be sure to check them out and spread the word that BDN has the best Duke Football coverage year-round.
2011 Bowl Games
Make no mistake, the goal for the Duke program is to play in Charlotte in December and the Orange Bowl in January. However, a lot will have to go right for that to happen, with maybe even some help from Harry Potter and friends. Coming off a 3-win 2010 in which the Duke defense struggled mightily and the offense was inconsistent, it might be more realistic to look at some other potential bowl destinations for the Blue Devils. If Duke is able to put together 6 wins or better in 2011, where might they end up playing in December or January?
The three best fits for Duke, at least geographically and a potential high-profile opponent, would be the Belk Bowl, the Music City Bowl, or the Military Bowl. The 2011 Belk Bowl will be held down I-85 in Charlotte on December 27th, and feature the #5 ACC team against a Big East opponent. The 2011 Music City Bowl will be held down I-40 in Nashville on December 7th, pitting the #6 ACC bowl team against an SEC opponent (with a sweet $3.675MM payout). If the Blue Devils were to be selected for the Military Bowl, they would likely face a familiar opponent in Navy on December 28th in Washington, DC.
The ACC also has a conditional agreement with the Kraft Fight Hunger Bowl, which will be played on New Year's Eve in San Francisco, but let's hope we won't have to travel that far. Another option would be the Independence Bowl on December 26th against a MWC team in Shreveport, Louisiana. Of course, Duke fans would welcome the opportunity to travel to any of these games to support the Blue Devils, so you may want to start saving up those frequent flyer miles and hotel points for December!
Class of 2012 holds steady
Wow, we made it through an entire week without a Duke football commitment. It's been awhile since we could say that. Duke has 13 solid verbal commitments in the class of 2012 and will hold their final few scholarships for potential impact players at RB, DL, LB, and WR. We've discussed the targets at length in previous weeks and on our Premium Message Board, but just to recap:
RB: Todd Gurley confirmed to BDN this week that he has dropped Duke from the schools he is considering. I gave my reaction to this news earlier this week on the message boards, but to summarize, Gurley is a tremendous talent, but may not have been the best fit at Duke University. Mallard Creek's Jela Duncan, who posted a sub-4.3 40 time in Durham earlier this summer and boasts a 3.5 GPA, would certainly look good in Duke blue.
LB: We heard from Marcus Allen earlier this week, another great athlete out of the state of Florida. His recruitment will be competitive, but he's exactly the type of student-athlete that could thrive in Durham. Keilin Rayner is a player who has been high on the Blue Devils throughout the process and with his interest in Sports Medicine, would be another great fit at Duke.
DL: The targets at this position have changed significantly in the past week, as the Virginia schools have locked up several verbal commitments. Woody Baron and Nigel Williams committed to Virginia Tech, giving the Hokies five defensive linemen in the class of 2012. Virginia added Courtnye Wynn, their third defensive line commitment in this class (they brought in seven DLs in the class of 2010). With a logjam on the defensive lines at UVA and VPI, could that help the Blue Devils with their recruitment of DT Korren Kirven? It certainly can't hurt, but Duke will have to battle things out with over a dozen other top programs for the elite Lynchburg lineman. Outside of Kirven, Duke is still recruiting Torey Agee out of Alabama and in-state standout David Reader. Agee is on a visit to Vanderbilt this weekend, and Reader has recently decided to pursue both football and baseball at the collegiate level. At 6'3" and 300+ pounds with a 95 MPH fastball, Reader could certainly help the Blue Devils on the gridiron and the diamond.
WR: The Blue Devils are hoping to add a new element to their receiving corps with one more commitment in the class of 2012, and that could come in the form of elite Tennessee prospect Drae Bowles, or the lengthy Anthony Nash out of Pennsylvania.
ACC following in the SEC's footsteps?
Except without the national championships. With the NCAA having investigated North Carolina and Georgia Tech for violations in their football programs, the ACC appears to be trending down a slippery slope. Fortunately, the majority of ACC programs continue to do things the right way, and Duke remains one of them. The Duke coaching staff, along with a top-notch compliance department, are sure to keep the program on track. With regards to Georgia Tech, though the NCAA noted a lack of cooperation with their investigation, the penalties ultimately should not have a great affect on the program. A fine, vacating wins, and probation hardly hurt the program where it counts going forward. In my opinion, the only NCAA penalties that have any noticeable effect involve the loss of scholarships or post-season participation. With many more violations having occurred in Chapel Hill, we'll have to see if the NCAA chooses to enforce more significant penalties.
Tweet, tweet
They say this internet is going to be a big deal. You can keep up with all things Duke Football through us here at BDN, of course, or you can follow Duke Football on Twitter. We're also on Facebook, as is Duke Football. Of course, the best way to stay informed about all things Duke athletics is to join BDN Premium. And if you need an invite to this new Google+ thing, shoot me an email.
We're gaining steam now
We've been saying that football season is fast approaching for awhile now, and some of that might just be wishful thinking. Come next week, however, and it can no longer be denied. The ACC will host its Football Kickoff in Pinehurst on July 24-25, and the Blue Devils will be represented by Head Coach David Cutcliffe, along with QB Sean Renfree and SAF Matt Daniels. Just two weeks after the ACC Football Kickoff, the Blue Devils will take the field for fall training camp. As always, you can rely on BDN to have the best coverage of all things Duke Football. After all, WE ARE DUKE.