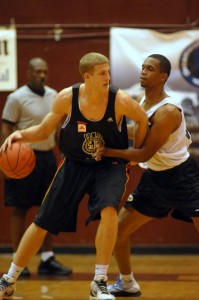 Firstly, Happy Independence Day Blue Devil Nation!  We've taken it easy around here this holiday weekend in order to recharge our batteries for what will be a busy month.  BDN has a long track record of covering all of the major recruiting events to bring you our always dependable coverage which has set the standard for all who cover the Blue Devils. The basketball coaches are allowed on the road in July and they'll be putting in a lot of  miles in the air while narrowing down who they'll continue to recruit.
The North Carolina Pro Am is underway as well with the action getting going again this Thursday.  BDN was in attendance for the opening session which featured Nolan Smith rocking his newly fitted Portland Blazers shorts.  The only active Duke player there was Mason Plumlee, who dropped 24 points, almost all on dunks helping his team shake off a 5 point half time deficit to win by 18.  There may or may not be a lot of players there this week, but you can bet that the following week will be quite interesting.  BDN has a long history of NC Pro Am coverage, so bookmark us now.
There has been a bevy of new Duke Football verbals of late where Coach David Cutcliffe and his staff are filling their needs at breakneck pace.  Be sure to check out our football recruiting coverage which is making waves of late.  Duke kicks off their season in 61 days against Richmond.  BDN will cover pre season practices in August, so stay tuned for weekly reports from camp.  Coach Cutcliffe also announced some changes to football staff this past week.
At the end of the month, I head to the ACC Football Kickoff event in Pinehurst, North Carolina.  There, I will predict the conference standings and first two All ACC teams.  I'm already settled in with most of my predictions but there are some key battles for a couple of All ACC spots.  Speaking of key battles, I am really looking forward to the Oklahoma at Florida State game on September the 17th for a Nole upset would be a huge boost for the conference.  The Noles are my clear pick for first in the Atlantic Division.
After an untimely and serious eye injury, former Duke standout Jon Scheyer is joining Maccabi Tel Aviv in Israel.  This team is of course a big time European League power where Scheyer will get plenty of exposure, much like former Blue Devil Trajan Langdon who recently retired from CSKA Moscow who made the All Decade Team. 
In the "In case you missed it," department, check out this article former Duke great, Dick Groat.  I remember his jersey hanging in Cameron Indoor Stadium when it was still called Duke Indoor Stadium back in the day.  Is this where I enter my "Everything was better back in the day," schtick?  Seriously, Groat was a phenomenal baseball player with the Pittsburgh Pirates and a hoops legend in the fifties while at Duke.  I always thought to myself, "Man that jersey looks small," but a look at Groats accomplishments makes me realize that it must have been an optical illusion.
One thing for certain is that players need to be careful in certain settings these days.  Social Media has opened up a venue for their thoughts to be read by all.  The problem is that some fans or say twitter followers, indeed have their own agenda and some are just plain whack.  Kyrie Irving is the latest victim in that he has quite the stalker who seems more than just a little intent on causing the top draft pick some trouble.  Check out this link where Adam Zangoria offers his two cents and be careful what you think is factual.  Again, social media has created a forum which flat out obsessed people can attempt to harass you and yes, even I have been a victim of this.