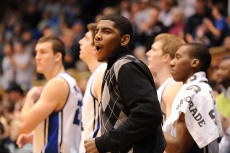 NEW JERSEY - Duke's Kyrie Irving was selected with the No. 1 overall pick in the first round by the Cleveland Cavaliers in Thursday's NBA Draft, while Nolan Smith and Kyle Singler were taken 21st and 33rd, respectively by the Portland Trail Blazers and Detroit Pistons. Irving, who entered the draft following his freshman season at Duke, becomes third Blue Devil tabbed with the No. 1 overall selection. "This is what I have worked so hard for and I am excited to start my NBA career with the Cleveland Cavaliers," said Irving. "I am thankful for the support of my family, friends and coaches and I am trying to enjoy every moment of this journey."  Irving, a 6-2 guard from West Orange, N.J., played in just 11 games last season, sitting out 26 contests with a toe injury on his right foot. He averaged 17.5 points, 3.4 rebounds and 4.3 assists per game while shooting .529 (55-of-104) from the field, .462 (18-of-39) from behind the three-point line and .901 (64-of-71) from the free throw line. Irving started the first eight games of the year, averaging 17.4 points, 3.8 rebounds and 5.1 assists per game during that time frame. He returned to action in the NCAA Tournament and averaged 17.7 points, 2.3 rebounds and 2.0 assists per game in Duke's three outings. He scored a game-high 31 points to go with six rebounds, four assists, two blocks and two steals against No. 6 Michigan State in the ACC/Big Ten Challenge. It was just the fourth time in school history a freshman scored 30 or more in a game. He was also selected the CBE Classic MVP after averaging 14.5 points, 4.0 rebounds, 6.0 assists and 1.5 steals in the four games.
With three players selected in the 2011 NBA Draft, including two first rounders, head coach Mike Krzyzewski has now mentored 43 draft selections. Duke has now produced 76 NBA draft picks overall. "Being selected in the NBA Draft is a dream come true," said Smith. "This is a special night for me and for my family. They have sacrificed a lot to help me reach my goals and my dreams. I am excited to have the opportunity to play for the Trail Blazers, set new goals and continue to work." Smith, the 2011 ACC Player of the Year and a consensus first team All-America, led the ACC in scoring (20.6 ppg.), 20-point games (21) and 30-point games (four) as a senior. He also ranked among the league leaders in field goal percentage, free throw percentage, assists and minutes played. Smith was also named ACC Tournament MVP after averaging 18.0 points, 2.0 rebounds, 6.0 assists and 1.0 steals per game in Duke's conference championship run. Smith averaged 13.4 points, 2.8 rebounds and 2.8 assists in 143 career games (including 97 starts). He ranks 17th all-time at Duke with 1,911 points and is the only player in school history to score over 1,500 career points after scoring less than 500 total points in his first two seasons combined. Smith's father, the late Derek Smith, played nine years in the NBA with the Golden State Warriors (1982-83), San Diego/Los Angeles Clippers (1983-86), Sacramento Kings (1986-1989), Philadelphia 76ers (1989-90) and Boston Celtics (1990). He also spent two seasons (1994-96) as an assistant coach with the Washington Bullets and was a second round pick (No. 35 overall) by the Golden State Warriors in the 1982 draft.
Singler, a second team All-America selection in 2011, ranked among the ACC leaders in scoring, rebounding, field goal percentage, free throw percentage, three-point field goals made and minutes played a year ago. He was also named to the ACC All-Tournament first team after averaging 17.7 points and 7.8 rebounds per game while helping Duke to its third straight ACC Championship. Singler averaged 16.2 points, 6.9 rebounds, 2.0 assists and 1.1 steals per game in his career and owns Duke career records for games played (148-tied), consecutive games played (148), games started (147) and minutes played (4,887). He led Duke to 125 victories to rank second all-time in ACC history and is just the fourth player at Duke and ninth player in ACC history to amass over 2,000 points and 1,000 rebounds in a career. Singler ranks fourth at Duke with 2,392 career points and sixth with 1,007 career rebounds. Duke Draft Notes * Irving joins Elton Brand and Art Heyman as the only Blue Devils selected with the No. 1 overall pick. Brand was taken with the top pick in the 1999 draft by the Chicago Bulls, while Heyman was selected No. 1 overall in 1963 by the New York Knicks. *
 Duke has had seven top-3 picks since 1985, four more than any school. * Irving, Smith and Singler become the first trio of Blue Devils taken in the NBA Draft since 2002; Jason Williams (No. 2), Mike Dunleavy (No. 3), Carlos Boozer (No. 35) ... Duke has had three or more players selected in the NBA Draft six times overall (2011, 2002, 1999, 1986, 1971 & 1956). * Irving is the 16th Duke player selected in the NBA Draft Lottery, more than any other school in the nation since the system was put into place in 1985. * Irving becomes the third Duke player selected by the Cleveland Cavaliers. Cleveland also selected Carlos Boozer with the 35th pick in the 2002 draft and Trajan Langdon with the 11th pick in the 1999 draft. * Smith is the first Duke player selected with the 21st pick in the NBA Draft. * Smith is the third Duke player selected by the Portland Trail Blazers. Alaa Abdelnaby was taken No. 25 overall by Portland in 1990, while Josh McRoberts was selected with the 37th pick of the 2007 draft. * Irving and Smith become the 22nd and 23rd players under Coach K selected in the first round of the NBA Draft ... Duke has now had 15 first round selections in the last 14 years. * With Irving and Smith going in the opening round, Duke has now had 30 players selected in the first round of the NBA Draft. * Duke has had two or more players selected in the first round five times (1986, 1999, 2002, 2006 & 2011). * Singler is the fourth Blue Devil selected by the Detroit Pistons. Detroit took Steve Vandenberg in 1969, Larry Saunders in 1971 and Grant Hill in 1994. * Singler is third Duke player taken with the 33rd pick in the NBA Draft. Steve Vacendak was taken in that spot by San Francisco in 1966 and Garry Melchionni was the 33rd pick by Phoenix in 1973.