Browse:
Home
/
Nolan Smith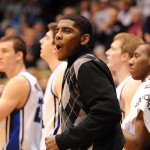 By Duke Sports Information on June 24, 2011
NEW JERSEY – Duke's Kyrie Irving was selected with the No. 1 overall pick in the first round by the Cleveland Cavaliers in Thursday's NBA Draft, while Nolan Smith and Kyle Singler were taken 21st and 33rd, respectively by the Portland Trail Blazers and Detroit Pistons. Irving, who entered the draft following his freshman season […]
Posted in Duke Basketball | Tagged Duke in NBA Draft, Kyle Singler, Kyrie Irving, Nolan Smith
By Mark Watson on May 23, 2011
In this weeks Monday Musings, I ramble a bit about the history Duke Basketball in the NBA Draft. We also touch on recruiting and upcoming events and salute the LAX and golf teams for their success and advancement. The Cleveland Cavaliers won the coveted number one pick in the upcoming NBA Draft last week and that means […]
Posted in Duke Basketball | Tagged BDN Monday Musings, Chicago Bulls, Cleveland Cavaliers, Duke in NBA, Kyle Singler, Kyrie Irving, Mark Watson, Nolan Smith
By Patrick Cacchio on April 8, 2011
Happy Friday, Blue Devil fans! It's been another tough week here at Blue Devil Nation, with the NCAA tournament wrapping up and early entrant season in full swing. Keep the faith, fellow Duke fans, there are bright days ahead. Is it football season yet? Not quite. But Football Friday is here to help you indulge […]
Posted in BDN Premium Articles, Duke Football | Tagged BDN Football, Blue Devil Nation, David Cutcliffe, DeAndre Daniels, Duke Football 2011, Football Friday, Football Recruiting News, Kedrick Davis, Keith Marshall, Kyle Singler, Nolan Smith, Patrick Cacchio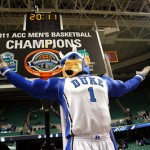 By Mark Watson on April 4, 2011
Firstly, I hope everybody is having a great Monday.  I have been missing in action of late for various reasons, but I am back for another edition of Monday Musings.  As the weather warms, one might think basketball takes a break but that simply isn't the case.  BDN Premium kicks off its AAU Basketball coverage […]
Posted in Duke Basketball | Tagged Butler-UConn, DeAndre Daniels, Kyle Singler, Kyrie Irving, Nolan Smith, Thomas Hill
By Duke Sports Information on March 29, 2011
DURHAM, N.C. – Duke senior Nolan Smith was named Associated Press First Team All-America on Monday. He is joined on the team by Jimmer Fredette (BYU), JuJuan Johnson (Purdue), Kemba Walker (Connecticut) and Jared Sullinger (Ohio State). Smith, the 2011 ACC Player of the Year, earned 61 votes for his outstanding senior season in which […]
Posted in Duke Basketball | Tagged Blue Devil Nation, Nolan Smith, Nolan Smith 1st team All American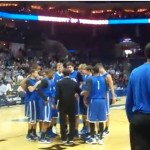 By Mark Watson on March 23, 2011
ANAHEIM – Check out these videos of the Duke Blue Devils practicing in Anaheim today.  The public was allowed in for the first practice, an NCAA tradition.  BDN was there to get some highlights for you.
Posted in Duke Basketball | Tagged Coach K, Duke in Anaheim, Duke Practice Videos Anaheim, Duke-Arizona, Kyrie Irving, Nolan Smith