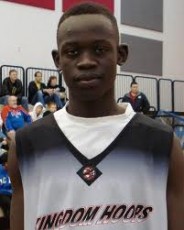 Childhood years can be a tumultuous time for a lot of kids. At 3, Peter Jok lost his father to violence in war-ravaged Sudan. At nine, his mother ultimately moved the family to Des Moines, Iowa to begin a new life. Two years later, the young man put away his soccer ball and began playing basketball. At a reported 6'6," he's now successfully playing the sport that has helped several of his relatives achieve a college education and, in two instances (Manute Bol and Luol Deng), an NBA career.
After a season in which he didn't enjoy his prior explosiveness, Jok underwent an MRI, which revealed a torn patellar tendon. In June, he's expecting to undergo surgery to repair it and the rehab will take several months. Recently, Jok and his guardian Mike Dixon's son, Pete, transferred high schools from Roosevelt HS in Des Moines to Valley HS in West Des Moines, where he will be coached by former Iowa guard, Jeff Horner. On the AAU circuit, the sophomore Jok is averaging 8 points and 4 rebounds per game in limited action for the All-Iowa Attack, who are 7-3 in Nike's EYBL.
His older brother, Dau, was a freshman guard at the University of Pennsylvania this past season and is currently on a trip that will take him through Rwanda and Southern Sudan, distributing soccer and basketballs to young girls and boys. Dau Jok, who set up a foundation in their slain father's name, Dut Jok, is looking to ultimately empower the Southern Sudanese youth through athletics and education.
Recently, the more laconic Peter Jok spoke with Blue Devil Nation.
How do you feel you've played so far over this AAU season? [private]
Well, I tore my patellar tendon. So, I'm really not supposed to be playing. I'm just waiting to have surgery.
And when are you scheduled to have surgery?
June. Well, the middle of June.
How long will it take you to recover from that?
Several months.
Wow, I'm sorry to hear that, but, hopefully, you'll feel a lot better afterwards.
Yeah, I hope so.
In terms of a position, what do you view yourself as, long-term?
Probably, realistically, as a small forward.
For those that haven't had an opportunity to see you yet, can you describe your game for the audience?
Well, I just like to play inside-out and my weakness, right now, is attacking the basket.  I feel like I have weak knees. Until I get my strength back, I don't see any chance of it improving.
When did the injury occur or was it a gradual issue?
It happened last year in a Nike camp. I played through the season, but, when I finally got an MRI, they said I must've torn my patellar tendon.
I can't believe you could play at this level with that issue.
Yeah, I know. (laughs)
In terms of your strengths, what do you feel are some of them?
On the court?
Yes, I'm sorry. On the court..
Probably my shot. My mid-range has gotten a lot better. I feel a lot more comfortable shooting  and hitting it.
Which teams are after you right now?
Yeah, but  I have a guardian take care of that. He handles all of that and so I don't have to think about that.
Sure. Did you have a favorite team growing up?
No, not really. I watched a lot of Oklahoma growing up because my cousin was on the team.
Which cousin was that?
Oh, Longar Longar.
Sure.
Yeah, I used to watch him play.
Now, is it true that you're related to both Manute Bol and Luol Deng as well?
Yeah, it's true. When we first came here, I remember I spoke to Manute Bol at a family reunion.
In Iowa or elsewhere?
No, in Kansas actually. We have a lot of family there. So, yeah, he was very encouraging.
I know your older brother was a freshman this year at Penn.
Yeah, he is.
 
Have you ever spoken with Luol Deng?
No, but my older brother has. I don't really, like, know him that well.
Is there a player that you try to model your game after?
Kevin Durant.
A very skilled forward. Maybe we can touch on your journey from Sudan to ultimately Iowa. It's a unique story… coming out of a war ravaged area to Des Moines.
Oh, well, I came here when I was nine so I don't really remember much.
Perhaps, that's for the best.
Yeah, I guess and my mom doesn't really like to talk about it that much.
Sure, nevertheless, you arrived in 2003.
Yeah, exactly, I arrived in '03 and I started playing in '05. I actually used to play a lot of soccer.
Now, do you still play that in the fall?
No, not anymore.
Concentrating on basketball?
Yeah, exactly, concentrating.
Who will you turn to for guidance whenever you do decide?
Longar Longar, my big brother, and then another cousin named Jok Jok…and then my uncles. They all look after me and guide me in life.
Are your uncles in Kansas?
My main uncle is in Minnesota and then my guardian…he guides me too.
His name's Mike Nixon.
Yes, Mike Nixon.
 
Although it'll only be until June, what are you hoping to accomplish this summer?
Not much. Just trying to wait until this knee gets healed.
Will you be able to work on your upper-body when you're in rehab?
Yes, when I get to rehab, I will.
 
So, it won't be wasted time?
Yeah, hopefully not.
What will you be looking for ideally in the program that you ultimately decide upon?
Just a team that runs and a good coaching staff.
So, you prefer an up-tempo system.
Yeah, definitely.
You've come a long way already and your brother's in Philadelphia, but will distance be a factor for you?
I really don't know. I'm not sure.
Do you have a time when you'd like to decide by?
To be honest, I'm not really thinking at all about recruiting.
What are some of your outside interests, outside of school and basketball?
I like hanging out with my girl.
Well, that's a first, but probably a good use of your time.
(laughs)
Now, does she play too?
Yeah, she played a little bit at my old school.
 
I know that's a touchy issue in your area and, perhaps, you'd rather not talk about it, but was it difficult for you to leave your prior school in the middle of the year?
Yeah, it was difficult, but…I don't know.
In doing my research, I was surprised at how much discussion or contention there was over you leaving your prior school and joining a new one. Were you surprised  by that?
Yeah, I tried not to pay too much attention to it at the time.
Well, good luck at the new school. Was transferring a big deal to you?
Yeah, no, I was surprised by all of that.
Is it difficult for you to be separated from your mother so often?
Yeah, well, you get used to it. She came back last night. She goes back and forth a lot.
I've been there many times, but how did you land in Des Moines  or the greater Des Moines area, of all places?
My grandma was there.
Oh, your grandmother. That makes sense.
Yeah, she was living there.
What has your brother, Dau (freshman at Penn), told you so far about college basketball and the adjustments that he's had to make, as he's stepped up in competition? Has he offered you advice?
He's talked about the need to tighten your ball-handling as much as possible and concentrate on defense a lot more in high school. Play as hard on that end as you can.
Do you guys plan on playing with or against each other this summer?
No, but we used to play all of the time when he was in high school.
Are you a good student as well? I figure, with your brother at Penn, you've got to be a pretty good student.
Oh, yeah, my mom's all about that. My mother would never let me or my brothers get away without studying or putting in a good effort. She values an education.
That's good to hear.Do you have a favorite NBA team?
Oh, the Lakers. The Lakers are my team. I love Kobe Bryant.
You mentioned before that Duke had called your house recently.
Yeah, they called my guardian.
Do you know which coach called?
No, I have no idea.
Would you be interested in them, if they decided to pursue you?
In Duke?
Sure, I would.
What's your current height and weight? What height are you projected to be?
They say I'l be somewhere between 6'8 and 6'10." I currently 6'6" and 194.
What would you like to weigh by next high school season? You mentioned before that you were planning on working on your upper-body while you're rehabbing.
Yeah, I'd like to weigh somewhere between 210 and 215 by the start of the season.
How are you going to try to keep the mid-range and three-point shot that you've been working on, while going through all of that rehab?
They said, after a couple of months, that I'll be able to shoot on it. It shouldn't hurt my shot that bad.
I would think this would be the case, but has it dramatically affected your leaping ability?
Oh, yeah, it has. It's been terrible.
Yeah, in the past, I though you were frankly more explosive than you've demonstrated recently, but your shot is a lot more consistent.
Yeah, I was a lot more explosive
Hopefully, after this surgery, we'll see you skying through the air again.
Yeah, I hope so.
Do you feel that you're a better a shooter as well now?
Yeah, I think so.
In terms of next year in high school, what are you hoping to accomplish?
Win the state. Last year, we got knocked out way too early, but, next year, we should be really good.
Thank you very much for your time.
Oh, sure. [/private]