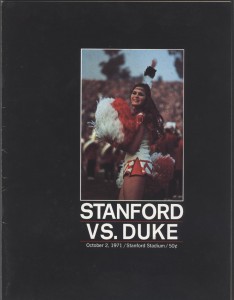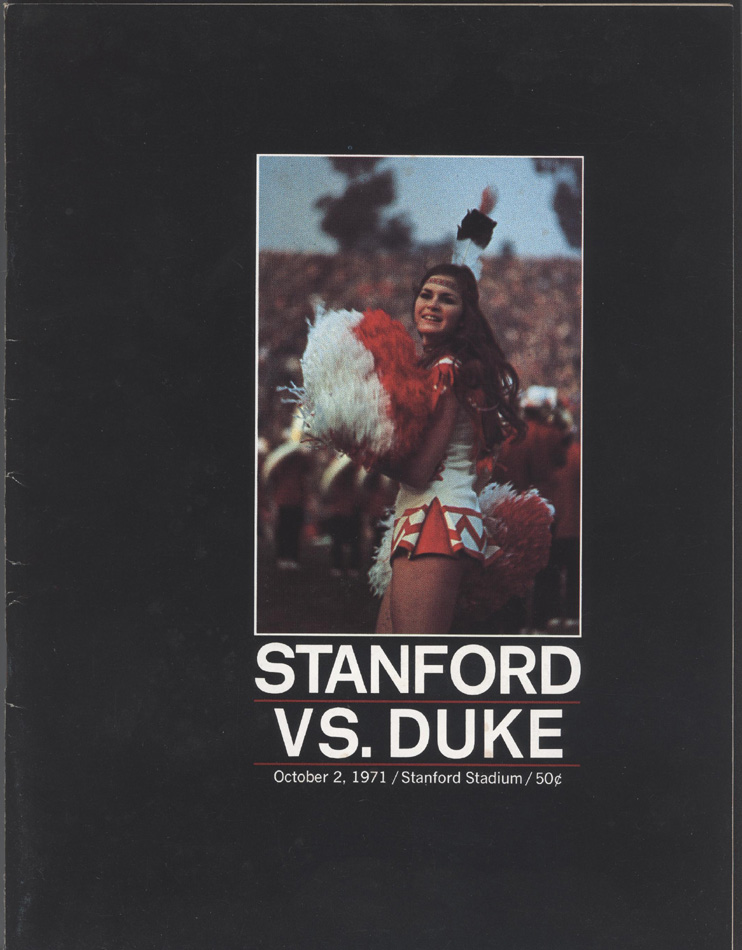 For the second straight season, the Blue Devils will host a top 10 nonconference opponent in Durham in September. A year ago, Duke took on top-ranked Alabama in front of a crowd of 39,042 fans, but the game was over by the end of the 1st quarter, when the Crimson Tide had gone up 28-0. To add insult to injury, the shock from that blowout led to a hangover against Army the following week. Duke and Stanford last met in 1972 in Durham, and Saturday's game represents the front half of a home-and-home series between the two academic powers. While David Cutcliffe and the Blue Devils work tirelessly to rebuild the Duke program into an ACC contender, the Cardinal are already there. Even after the departure of Head Coach Jim Harbaugh for the NFL, Stanford entered the season with a top 10 national ranking and will be defending their PAC 12 title. By all accounts, new Head Coach David Shaw has been able to sustain the momentum built by Harbaugh, and the Cardinal have  quickly become a top national program.
When previewing Stanford, all eyes are on Heisman favorite Andrew Luck, the redshirt-junior QB who turned down the NFL's millions to get his degree. As a QB, Luck does many things well; in 2010, he broke John Elway's school record for TD passes in a season, while also eclipsing the school's QB rushing record. Overall, he finished with an impressive 3,338 passing yards for 32 touchdowns and just 8 interceptions. He loses his top 2 receivers from 2010, but picked up right where he left off in week 1, spreading the ball around to a deep group of receivers and tight ends, leading the Cardinal to a 57-3 blowout of former Duke DC Mike MacIntyre's San Jose State team.
Stanford returns their top 3 rushers from a year ago, led by junior Stepfan Taylor. The running game got off to a slow start in week 1 against the Spartans, finishing with just 3.5 yards per carry, but did add 4 touchdowns on the ground. Conversely, the Stanford defense has been one of the top rushing defenses in the country, giving up just 121 yards per game on the ground in 2010, and allowing a paltry 0.8 yards per carry in week 1.
Overall, the Cardinal play a physical style of football, and they will challenge the young Blue Devils in every facet of the game. Duke, after a disappointing performance against Richmond in their opener, will have to put together four solid quarters of football to avoid a repeat of last year's laugher against Alabama. Here are a few ideas to get them started: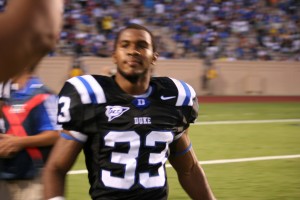 KEYS FOR DUKE
1. Spread the field, move the chains
When you face an offense as potent as Stanford's (#9 scoring offense in the country in 2010), the best defense is usually a good offense. The less Andrew Luck is on the field, the better. Unfortunately, Duke will be without two of its top three running backs on Saturday, leaving sophomore Juwan Thompson and senior Jay Hollingsworth will be left to carry the load. While many Duke fans were frustrated with some of the play-calling in the week 1 loss, the Blue Devils did control the clock, winning the time of possession battle. Of course, the flip side of that is that the offense frequently left the Spiders with a short field, so while Duke may have controlled the clock, they did not control the field. This week, Duke will have to do a better job of spreading the field, moving the chains, and winning the field position battle. They can't afford to make life easy on Luck and the Cardinal.
2. Take some shots
All that being said, Duke has playmakers at wide receiver, and they need to do a better job of using them. This is a game where the Blue Devils have nothing to lose. If they are not aggressive out of the gate, they will be buried quickly by Stanford. During the offseason, there was a lot of talk about Sean Renfree's growth and many tabbed him as the top returning QB in the ACC – let's prove it on a national stage against the #6 team in the country. It's not just about play-calling, either. Last year, Duke linebacker Kelby Brown made his Blue Devil debut in the 2nd half against Alabama. In week one, the Blue Devils played two of their true freshmen in Jamison Crowder and Blair Holliday. For those that have earned the opportunity, let's see what they can do. There are several positions where Duke could use contributions from their younger players, and a physical Stanford team will be a great litmus test to see if they're ready to play. The Blue Devils made a terrible statement in week 1, but they have a prime opportunity to make an important one in week 2, and they don't have to pull off a miraculous upset to do it. Show the rest of college football that the Blue Devils, even without two of their top running backs, have an offense that will keep opposing defensive coordinators up at night.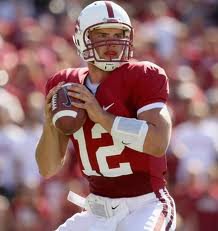 3. Ground the Cardinal
With an offense like Stanford's, it's really pick your poison. Andrew Luck is an All-American and Heisman favorite, and Stepfan Taylor is certainly no slouch, but the defense has to try and take the ball out of Luck's hands. In last year's Orange Bowl, he was able to pick apart a pretty good Virginia Tech defense, and given the opportunity, he will easily move the ball against the Duke secondary. The Blue Devils were effective at slowing Richmond's running game, and will hope to have the same success against Stanford Saturday.
GAME ANALYSIS
Considering that Duke lost to Richmond in week 1 and Stanford had a big win against San Jose State, it's no surprise that the Cardinal have a decided statistical advantage over the Blue Devils. That being said, if the Blue Devils play good, fundamental football, they have nothing to lose and could surprise a lot of people with their play on Saturday.

Turnovers 
Stanford 0, Duke 2
In addition, Stanford forced 3 turnovers against San Jose State, while the Blue Devils came away with just 1 interception against Richmond. Turnovers have plagued Duke over the past year, and will continue to do so until they take better care of the football and apply more pressure to opposing offenses.

Sacks
Stanford 2, Duke 0
Again, this stat works both ways, as the Stanford offensive line has done a good job protecting their Heisman candidate, not allowing a sack in week 1, while the Blue Devils allowed 1 against Richmond. Stanford has had to break in three new starters on their offensive line, but haven't missed a beat so far.
Stanford 5/13 (38.5%), Duke 7/14 (50%)
It's hard to give this one to the Blue Devils, as this stat also works both ways. The Stanford defense allowed just 3/14 (21.4%) on 3rd down in week 1, while Duke gave up 6/15 (40%) to Richmond.

Explosive plays
It's been the same old story for the Blue Devils. The defense continues to allow a few too many explosives, while the offense isn't able to find them when they need them. Duke will have to open things up if they expect to keep up with Andrew Luck and his explosive offense.

Rushing TDs
Stanford 4, Duke 3
Both teams have QBs who can run it in themselves, but Taylor is much more proven than the Blue Devils' running backs. Thompson had an impressive season debut, and if he can repeat that effort against a stingy Stanford run defense, it will be a good sign of things to come.

Field goals
Stanford 2/2, Duke 0/2
Yikes, let's not go there. Will Snyderwine will have to bounce back from week 1, but the reality is that if Duke has to settle for field goals, this game won't stay close for long. Conversely, if the Duke defense can keep redshirt-freshman Jordan Williamson busy for the Cardinal in his first college road game (and I don't mean kickoffs), the Blue Devils should stay in the game.
Stanford 3-30 yards, Duke 3-14 yards
This one is another push, but Duke will have to continue to play disciplined football; they can't beat themselves. Though they only had 3 penalties in week 1, the last of those came on a crucial 3rd and 2, ultimately preventing the Blue Devils from picking up a 1st down and sustaining the drive.

PREDICTION
The Blue Devils will put together a better effort than in week one, but it will still come up woefully short against #6 Stanford. Andrew Luck will pick apart the Duke secondary with his deep group of talented receivers, particularly at tight end, which will cause significant match-up problems. With a banged up group of running backs, Duke will have to try to stretch the field and use some tricks to move the ball consistently against a Stanford defense that has yet to give up a touchdown. Expect a slightly more competitive game than a year ago against Alabama, but the Blue Devils ultimately won't be able to keep it within three scores. Stanford 45, Duke 16