Browse:
Home
/
Duke-Stanford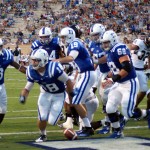 By Mark Watson on September 4, 2012
Brandon Connette has been showing off his versatility early this season and he hopes to build on last weeks success against a tough Stanford team on the road this weekend.  BDN will be in Palo Alto for our usual coverage, so check us out all week long as we bring you top-notch Duke Football coverage.
Posted in Duke Football | Tagged Blue Devil Nation, Brandon Conette, Duke Football Beat, Duke-Stanford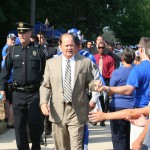 By Patrick Cacchio on September 13, 2011
David Cutcliffe is now two games into his fourth season as Head Coach of the Duke Football program, and with the Blue Devils opening the year 0-2, fans are asking whether progress has in fact been made. Progress, however, is a relative term, and one can easily see progress or a lack of progress depending […]
Posted in Duke Football | Tagged Andrew Luck, BDN Football, Blue Devil Nation, David Cutcliffe, Duke 0-2, Duke Football, Duke Football 2011, Duke Football Improvements, Duke Football Progress, Duke-Richmond, Duke-Stanford, Football Recruiting News, Jamison Crowder, Juwan Thompson, Sean Renfree, Will Snyderwine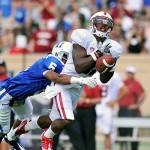 By Mark Watson on September 13, 2011
Welcome to Blue Devil Nations Video highlights from the Duke-Stanford game.  The Blue Devils came up short, but the highlights are still worth a look.  Let us know how you like the videos.
Posted in Duke Football | Tagged Blue Devil Nation Video, Duke Football, Duke-Stanford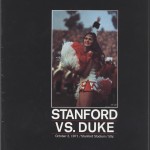 By Patrick Cacchio on September 9, 2011
For the second straight season, the Blue Devils will host a top 10 nonconference opponent in Durham in September. A year ago, Duke took on top-ranked Alabama in front of a crowd of 39,042 fans, but the game was over by the end of the 1st quarter, when the Crimson Tide had gone up 28-0. […]
Posted in Duke Football | Tagged Andrew Luck, BDN Football, Blue Devil Nation, David Cutcliffe, David Shaw, Duke Blue Devils, Duke Football, Duke-Stanford, Juwan Thompson, Sean Renfree, Stanford at Duke, Stanford at Duke football, Stanford Cardinal, Stanford Duke preview, Stanford Football, Stepfan Taylor
By Patrick Cacchio on July 10, 2011
Are you ready for some football, Blue Devil Nation? Ok, you're fully immersed in our coverage of the Lebron James Skills Academy and Adidas Invitational. Or maybe you're on your summer vacation. Either way, football season is fast approaching, and there's nothing you can do to stop it. So get on board! Season tickets are […]
Posted in Duke Football | Tagged Andrew Luck, BDN Football, Blue Devil Nation, Blue Devils Football, Duke, Duke 2011 preview, Duke Football, Duke-Stanford, GoMightyCard, Hank Waddles, Jim Harbaugh, Stanford, Stanford at Duke, Stanford Football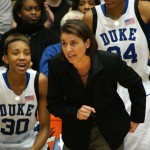 By Mark Watson on December 17, 2008
[private]The buzzer sounded in Cameron as the Duke Women upset the third rated Stanford Cardinal 56-52.  As one might expect several of the victorious Blue Devils ran about the court in glee, but not Coach McCallie. After Stanford coach Tara Vanderveer gave McCallie a cold fish hand shake, the second year Blue Devil coach calmly […]
Posted in Duke Women's Basketball | Tagged Coach P, Duke-Stanford, Karima Christmas