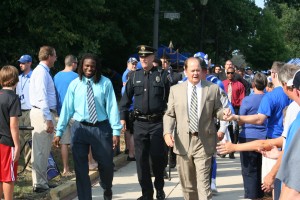 David Cutcliffe is now two games into his fourth season as Head Coach of the Duke Football program, and with the Blue Devils opening the year 0-2, fans are asking whether progress has in fact been made. Progress, however, is a relative term, and one can easily see progress or a lack of progress depending on the context.
Start with the big picture. Where was Duke football in 2007 and where is it today in 2011? The Blue Devils opened the 2007 season 0-2 with losses to Connecticut and Virginia. In 2011, they are again 0-2 with losses to Richmond and Stanford. Just as they were in 2007, Duke is again expected by most to finish at or near the bottom of the ACC. At face value, progress has not been made, and it's a reasonable argument.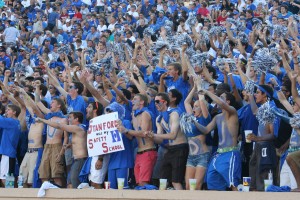 The opposition to that argument is that building a winning football program doesn't happen overnight. Since Coach Cutcliffe's arrival, there have been substantial improvements made off the field. Overall, attendance is up and there is a new-found enthusiasm for football at Duke. The University and its boosters have made a substantial investment in the program, both from a coaching and a facilities standpoint. Duke has a veteran group of coaches and football facilities better or equivalent to every other ACC school. Improvements to Wallace Wade Stadium are in the works, though that will require a significant investment and better production on the field.
Speaking of on the field, let's look at the early return on the University's investment. So far in 2011, the wins aren't there, so let's look at the talent level. In 2007, Duke had 1 returning All-ACC player on the roster in Eron Riley. In 2011, Duke returns 3 players who have been awarded All-ACC honors in Conner Vernon, Donovan Varner, and Will Snyderwine. Looking at the makeup of the roster itself, the 2007 Blue Devils entered the season without a single redshirt-sophomore, junior, or senior. In 2011, Duke has 18 redshirt-sophomores, 10 redshirt-juniors, and 7 redshirt-seniors on the roster. The team is developing the kind of depth and experience that is needed to compete week in and week out over the course of a college football season. Based on an informal eye test, the Blue Devils are still an undersized football team, but that is slowly changing. Each recruiting class appears to get a little bigger and a little faster, and recruiting as a whole appears to be paying dividends, with young players like Juwan Thompson (leading rusher), Laken Tomlinson (starting OL), Kelby Brown (2nd leading tackler), and Jamison Crowder (10th in ACC in all-purpose yards) all producing an immediate impact on the field.
Let's step away from the big picture and take a deeper look at Duke's 2 losses. A loss to Richmond was inexcusable and a big step in the wrong direction for this team. The mistakes made in that game appeared to be "the same old Duke;" missed FGs, fumbles, and consistently inconsistent play throughout the game. It certainly felt as if we had all traveled back in time to the Carl Franks era of Duke football, a period defined by mistakes and winless seasons. The Blue Devils appeared to be playing not to lose, highlighted by the overly vanilla and poorly executed game plan. Those around the program simply shook their head and thought, "Duke should be better than that. This shouldn't be a bad football team."
A week later, Duke welcomes #6 Stanford and Heisman favorite Andrew Luck to Wallace Wade Stadium. Most Duke fans, and even some media members, fear a repeat of last year's disaster against Alabama, where the game was seemingly over for the Blue Devils before the ball was snapped. Sure enough, the Cardinal came out and caught Duke off guard with a trick play, ultimately driving the field for an opening touchdown and 7-0 lead. Here we go again. Instead, Sean Renfree leads Duke on a 9-play, 70 yard drive on their first possession to set up a FG. Will Snyderwine, last week's goat, comes in and misses yet another chip shot FG. Here we go again.  Instead, Duke's much-maligned defense makes the Heisman contender look uncomfortable for the next 4 possessions, coming up with 2 sacks, and 3 QB hits. Senior safety Lee Butler caps off the improbable start with a 76-yard interception returned for a TD. Duke recovers an onside kick after the PAT, and Wallace Wade is rocking with belief. The Blue Devils appear to be the aggressor and Duke is ready to compete with the #6 team in the country.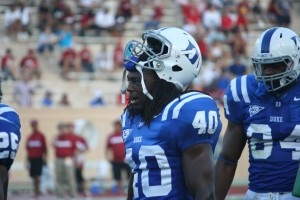 Of course, that didn't last long, as things quickly turned on the Blue Devils and they were unable to sustain their early momentum. The offensive line stumbles and the Duke drive stalls to close the half. Andrew Luck then returns to his Heisman-caliber form and leads the Cardinal to a 17-7 halftime lead. The 2nd half is dominated by Stanford, with the lone bright spot being a late 4th quarter TD drive engineered by redshirt-freshman QB Anthony Boone. The final score is a lopsided 44-14, and unanswered questions still abound about the state of the program.
Was that momentary flash - when we all started to believe - was that real?
Who is this Duke team? Are they the team that disrupted the Stanford offense and drove the length of the field with ease to open the game? Are they just the same old Duke, characterized by mistakes and missed opportunities?
Has progress been made? It is clear that significant improvements and investments have been made made off the field, but that hasn't yet translated into wins, the ultimate measuring stick. It's been an uphill battle, but Duke must continue to persevere and get better every day - on the field, in the coaching box, and on the recruiting trail. You either get better or you get worse. What will it be for you, Duke Football?
The Blue Devils are entering the most crucial part of their schedule, with 3 very winnable games leading into the bye week. Many of our questions about Duke will be answered, beginning with this week's trip to 0-2 Boston College, followed by a homecoming game against Tulane and then a trip to surging Florida International. The Blue Devils must emerge from these three games with at least a 2-3 record, and should be capable of entering their bye week at 3-2 if they work hard to improve their red zone efficiency. After opening 0-2, 3 straight wins would be strong evidence that progress has, in fact, been made.