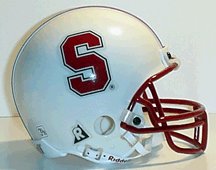 Are you ready for some football, Blue Devil Nation? Ok, you're fully immersed in our coverage of the Lebron James Skills Academy and Adidas Invitational. Or maybe you're on your summer vacation. Either way, football season is fast approaching, and there's nothing you can do to stop it. So get on board! Season tickets are on sale now at GoDuke.com, or through the Duke Ticket Office at (919) 681-BLUE.
Over the next several weeks, BDN will team up with other college football insiders to preview the 2011 Duke schedule. We kicked off our series earlier this week with help from David Weissman of The Collegian to help with our Richmond preview. There's no question that the season opener is a must-win game for the Blue Devils, and that game deserves the full attention of the players and staff. But as fans, we have the luxury of being able to look ahead to the marquee week 2 matchup with the Stanford Cardinal. We'll have lots more to say about this game between now and September 10th, but let's take a quick look at some of the story lines.
Duke and Stanford last met on the gridiron in 1972, and obviously a lot has changed with the two programs since that last meeting in Durham. Head Coach David Cutcliffe enters his fourth year at Duke in pursuit of the Blue Devils' first bowl game since 1994, having infused energy and optimism into a long-dormant program. It wasn't that long ago that the Cardinal found themselves in a similar position, coming off a 1-11 season in 2006. After Jim Harbaugh's arrival in 2007, well, as they say, the rest is history. Stanford is now a consensus top 10 team, having dismantled ACC Champion Virginia Tech 40-12 in last year's Orange Bowl. After Harbaugh's departure for the NFL, the 2011 Cardinal team will be led by first year Head Coach David Shaw, and he'll have Heisman favorite Andrew Luck leading the offense. In all, eleven starters return for Stanford, and they will open the season against former Duke Defensive Coordinator Mike Macintyre (and Simon Connette, younger brother of Duke QB Brandon Connette) and the San Jose State Spartans.
In 2010, Duke hosted a top-ranked Alabama team in September, which featured a defending Heisman trophy winner in Mark Ingram and had easily defeated San Jose State in their season opener. It's easy to see the potential parallels between that matchup and the 2011 non-conference clash with Stanford, but Blue Devil fans are hopeful for a much better outcome. With this game against a ranked opponent being nationally televised on ESPNU, it could be a golden opportunity for Sean Renfree and the Blue Devils to announce themselves on the national scene. Though Luck and the Cardinal will be a formidable opponent, it should be an exciting game in a packed Wallace Wade Stadium between two of the nation's most prestigious academic institutions.
To give us additional insight into the Stanford program, we are fortunate to have the help of Hank Waddles of GoMightyCard.com.
BDN: Many Duke fans point to Stanford's success as proof that top academic schools can produce championship football programs. It's hard to believe that the Cardinal were 1-11 just five seasons ago; to what do you attribute Stanford's meteoric rise and success? How much confidence do fans have in new Head Coach David Shaw's ability to continue that success?
I remember reading an article from a Duke perspective that made this same point some time around the Orange Bowl last January. The funny thing is that twenty years ago Stanford fans looked at Duke as proof that a university with a strong academic reputation could also field a competitive basketball team. When the Stanford football program was lost in the darkness of Buddy Teevens and Walt Harris, there were many who followed the team who felt as if the University had given up on the idea of fielding a winning football team. Even Bill Walsh felt that the stiff admissions requirements were too much to overcome. The arrival of Jim Harbaugh changed all that. That's no deep analysis, but I don't think it can be understated. Harbaugh took the job in 2006 because he believed he could win, and then he convinced everyone around him -- the players, the coaches, the fans, and the athletic department -- that it was possible. Belief is fine, but Harbaugh and his staff also did a great job bringing in players that could compete -- and dominate -- in the Pac-10. Harbaugh's departure was a disappointment, but it wasn't unexpected. David Shaw, I think, is the perfect man to replace him. A Stanford graduate himself, Shaw actually sees the University's academic reputation as an advantage in recruiting, and the football department recently send a letter to all recruits detailing the financial returns of a Stanford degree as compared to other schools whose football teams are in the top 25. The media has made much of the idea that Stanford won't be able to win without Harbaugh's personality to drive the bus, but what they're forgetting is that the 2011 roster is clearly -- clearly -- more talented than the team that we last saw running roughshod over Virginia Tech. Confidence is high.
BDN: Despite the departure of Head Coach Jim Harbaugh and with only 11 starters returning, expectations are still high for the Cardinal in 2011. What are the biggest question marks for this team as they head into training camp?
Any time a team loses a head coach -- and loses quality coaches from the staff -- that has to be a question, but as stated above, I think it's a question the Cardinal will answer. As far as what we'll see on the field, I'd say there are three main areas of concern. The defensive line will have to survive the loss of nose tackle Sione Fua, who was drafted by the Carolina Panthers. Behind the line, though, the linebacking corps is developing into one of the best units in the conference, if not the entire country, and the secondary is also a strength. On the offensive side of the ball, the biggest question is the offensive line, which lost three starters. The good news, though, is that the two who are returning were both All-Pac-10 selections. I think the line will be fine by the end of the season, but it will be interesting to see how well things will have come together for this matchup in the second week of the season. Finally, there are the wide receivers, which have been a question mark since last year. Chris Owusu could solve all this just by staying healthy, but it's been quite a while since he's played at full strength. Even if he is healthy, there is no true front runner for the second receiver. Hopefully someone will assert himself during training camp.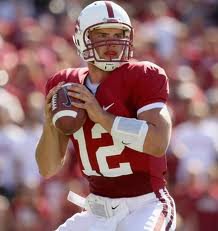 BDN: QB Andrew Luck made the laudable decision to return to school for his senior year and obtain his degree. How much has Luck meant to the Stanford program? Do you think he can play much better than his 3338 yards, 70.7% completions, and 32 touchdowns from a year ago (in other words, does he have a weakness)?
The thing about Andrew Luck is that I actually don't think people talk enough about how great he is. Even the very best college quarterbacks struggle at times. They miss wide open receivers, they throw head-scratching interceptions, they make terrible decisions, but Luck doesn't do any of those things. (There is a weakness, though. As much as the coaching staff drills it into his head, he stubbornly refuses to step out of bounds on his scrambles, preferring to seek out the contact.) He really is the perfect quarterback, but his value to the team extends far beyond the numbers, and it will extend far beyond his time at Stanford. He accepted a scholarship offer to play for what at the time was a mediocre football team because he wanted a great education and because he believed that the team could eventually become a winner. What he's done during his two years at quarterback is win twenty games, elevate Stanford football to a level never before seen, and stun the world by passing up the NFL's millions. His next year will bring a Stanford degree, possibly a Heisman trophy, possibly a national championship, and... the NFL's millions. I'm not sure whether or not Luck's numbers can improve this year, but offensive coordinator Pep Hamilton issued a tongue-in-cheek challenge during Stanford's spring workouts. He hoped that Luck would complete 100% of his passes this season. We'll see.
BDN: Duke and Stanford last met in 1972 and have split the historical series 1-1. With the cross-country road trip and a relatively unknown opponent, what are your expectations or concerns for the week two match-up with the Blue Devils?
This isn't new. In 2009 Stanford opened the season with a cupcake at home (Washington State) and then traveled across the country to play an ACC team in Week 2. That year it was Wake Forest, and it was kind of a disaster. The Cardinal looked good in the first half, but then everything went wrong in the second half, and the Demon Deacons rallied for a 24-17 victory. This year Stanford opens with the San Jose State Cupcakes, then travels east for the Duke game. The Cardinal should definitely win, but it's never easy for a college team take a trip like this and come away with a victory. (This is why even teams from the powerful SEC rarely venture more than a hundred miles from home for non-conference games.) My biggest concern will be the offensive line. I'll be interested to see how well they're playing as a unit early in the season. If they've meshed, look out.
BDN: After watching Andrew Luck pick apart ACC Champion Virginia Tech in the BCS Orange Bowl, there's no question Duke will have a tall task in trying to knock off the Cardinal. If you were an opposing coach, how would you try to contain Luck and the Cardinal offense? How would you attack the Stanford defense?
I bet that opposing coaches will initially think that the offensive line is a weakness, so they'll drop extra guys into coverage and dare the Cardinal to run. There are two big problems with this. David Shaw has made it clear that Stanford will be a running team. ("We'll get off the bus running power," he has said.) Also, not too many teams in the country have a better running back tandem than junior Stepfan Taylor and sophomore Anthony Wilkerson. The second problem is that even if you drop extra men and only rush three or four, Luck will still pick you apart. If he has time, he'll find the open receiver, even if you drop ten into coverage. He's better than any college quarterback I've ever seen at looking to his second and third targets. I think you have to treat Andrew Luck like an NFL quarterback. If he's comfortable in the pocket, he will destroy you, plain and simple. You have to blitz him on every single passing down and just hope that you're able to get to him before he finds the open receiver. The problem with this, of course, is that he's better than any college quarterback I've ever seen at reading defenses before the snap and identifying hot receivers, so the blitz better get there, and it better get there quickly. As for attacking the defense, the bad news is that San Jose State probably won't give the Duke staff much to work off of. Because the line will be a potential weakness, I'd say the Blue Devils will have to try to run early and run often. If they can gain yardage on the ground, they'll force the Cardinal defense to put away some of their usual blitzing schemes, simplifying things a bit for the offense, and the secret bonus will be that Luck will spend more time on the sideline than on the field, and that's never a bad thing.
BDN: Thank you for your helpful insight, Hank!