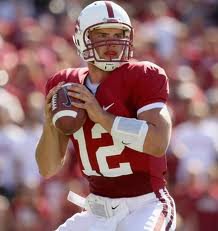 After an opening week loss to the Richmond Spiders, things will get a lot harder for the Blue Devils in week 2, as they welcome the #6 Stanford Cardinal. Led by Heisman favorite Andrew Luck, the Cardinal have quickly become one of the top programs in the country with a physical style of play. In September 2010, Duke welcomed another top national program to Durham in Alabama, and fans would prefer to forget the result on that afternoon. The young Blue Devils will have to learn from last year's experience and greatly improve on last week's performance if they plan to compete with Stanford.
After putting up 57 points on San Jose State last week, the Cardinal will be expecting a similar outcome this Saturday. BDN is pleased to welcome back Hank Waddles of GoMightyCard.com for his view from the Stanford perspective. As always, please be sure to visit their site to read the BDN half to our weekly Q&A exchange.
BDN: Duke football fans love to use Stanford's success as a benchmark for their own program. From the Stanford perspective, how would you compare the two schools and their football programs? What similarities do you see, and where do you think they differ?
The similarities between Duke and Stanford are obvious. Both are prestigious academic institutions, first and foremost, and the admissions requirements that go along with that don't always mesh with the building of athletic powerhouses. (Stanford fans, however, are fond of pointing out that the Duke admissions office seems to be more lenient than Stanford's.) Stanford athletic director Bob Bowlsby has publicly stated that he wants every Stanford sports team to be among the best in the nation, and recently that edict has even extended to the football program. The past two seasons have shown that a school like Stanford -- or Duke -- can field a competitive football team, something that didn't seem possible as recently as five years ago. Stanford has acted on that belief by rebuilding their stadium, upgrading practice facilities, recruiting relentlessly, and making a commitment to a coach we all hope will stay for quite a while. I'm not sure if Duke has done any of that yet.
BDN: With a top ten ranking and the Heisman favorite at quarterback, the Cardinal isn't going to sneak up on any opponent. Which teams do you expect to be the toughest match ups for Stanford this season and why?
Last year was interesting. Those of us who watched the team week in and week out were rarely surprised when they won, but those who were getting beaten always seemed shocked. This year should be different, as Stanford will likely be favored in every game they play. That obviously guarantees nothing, however. If you'd asked me this question last week, I'd have told you I was worried about the back half of the schedule: USC, Oregon, and Notre Dame, plus a trap game at Oregon State in the middle of all that. This past Saturday, though, USC didn't score a point in the second half and struggled to beat Minnesota at home, Oregon didn't look themselves against LSU, Notre Dame lost at home to South Florida, and Oregon State lost to an FCS team. Even so, I'm guessing those teams will all put things together enough in the next couple months to present significant challenges for the Cardinal.
BDN: Despite putting up 57 points and 373 yards on former Duke DC Mike Macintyre and San Jose State, the Stanford coaches and players felt their offensive effort could have been better. What are the areas of concern, other than Andrew Luck diving all over the field?
This will sound strange, but if you watched the game, it definitely didn't feel like a fifty-four-point win. San Jose State helped out a lot with a handful of turnovers, and the game was never in doubt, but the offense wasn't as dominant as the score might indicate. Over the last two seasons Stanford fans had gotten used to watching their offensive line steamroll the opposition, but that didn't happen on Saturday. Three starters from last year's team are gone, and this new group wasn't nearly as dominant, as the offense rushed for only 141 yards. The line will be under a microscope the rest of the way, and I'm especially interested to how they develop over the next few weeks.
BDN: After an inexcusable opening week loss to Richmond, the Blue Devils are reeling. What advice would you give Duke coaches, players and fans as they prepare for a top ten Stanford team? As a team with nothing to lose, how should they attack the Cardinal?
As Duke gets ready to face the Stanford offense, they should probably do their best to force the Cardinal to run. As detailed above, Stanford had a hard time running the ball last week. The problem with this, though, is that they'll probably be spending this entire week working on the running game and will likely come out looking to establish the ground game. But if the Blue Devils can make the Stanford offense a bit one-dimensional, that would obviously be a good thing. As for the Stanford defense, that's a more difficult proposition. The defensive line was dominant last weekend, almost completely shutting down the San Jose State running game, and the defensive backs were almost as good. In between are the linebackers, who are rapidly developing into one of the best units in the nation. You might not know Shayne Skov and Chase Thomas, but you'll hear their names a lot on Saturday afternoon.
BDN: Stanford opened as a 22 point favorite on the road this Saturday; any chance you think Duke fans should take the points?
Only twenty-two points? That's a trap. Look for the Cardinal to win by at least thirty.
BDN: Thanks for your insight, Hank. Good luck!