Tyler Thornton took the time to chat with Blue Devil Nation Premium last evening.  Thornton talked about his big weekend visit sharing his thoughts on his trip to Durham and verbal commitment to play for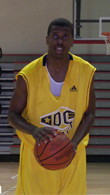 Coach K's Blue Devils.   In our previous talk, Thornton said that he had every intention of returning home to think over his choices.  In the end, far too many factors fell into  place, so he made his collegiate choice on the spot and he's glad he did.
When Thornton answered the phone, it didn't take long for me to tell there was a wide grin on the other end.  His Mom, who I talked to first said,  "I saw a comfort level in his body language during the visit and that led me to believe he was very excited and definitive with his choice.  [private] Tyler has an infectious smile and he was wearing that smile on our visit."
"By the time we got there I knew I wanted to be a Blue Devil," said Thornton.  It was just so much fun.  I loved being around the guys and the coaches on campus and I had a great time the whole weekend.  I can't wait to go back!"
As it turned out, Thornton spent most of his free time with Josh Hairston, Andre Dawkins and Elliot Williams.  He mentioned that the brothers Plumlee, Mason and Miles also stopped by the room on Saturday evening as well - all talking of one day playing together.
"Andre and I have always been cool with each other.  Getting a chance to hang out with Josh who I consider one of my best friends and him was really nice.  We hung all day with each other and we can't wait to go back down."
Thornton made his commitment official during an afternoon meeting with Coach K.  "We talked about the guys visiting and this years team.  He told us stories about Team USA in Beijing and how much fun he had coaching them," said Thornton.
"It's a blessing being a part of the Duke Family.  Not everybody gets to go even see things like the new practice facility.  To have it at my disposal  and to be able to go whenever I want or need to is great.  I can't say a lot more about ... it's great to be a part of the family.
Family is a recurring theme when one talks of Duke Basketball and all three of the 2010 verbals seem to realize they are part of something really big.  However, the prospects aren't the only ones impressed by the homey togetherness.
"One of the common themes that came out is that everything just felt right," said Thornton's Mom.  She continued, "Tyler has been in private setting since the seventh grade.  It's a setting we feel most comfortable in and Duke had a lot to offer off the court.  What's impressed me the most since the beginning was the family feeling and how welcome and at ease we were.  As a mother or a parent, you want to know that your child is going to be taken care of."
The weekend also included several rounds of pickup ball.  "My team had Jon Scheyer, McClure, Mason and Josh.  We won most of the games - it was fun."  It was later confirmed in a talk with Andre Dawkins that Tyler's team indeed was tough to beat last weekend.
"The highlight of my visit was when I actually made the decision that I was going to commit," stated the future Dukie.  "All the coaches were excited.  I did go down with the mindset that wasn't going to commit, but once I got there, I couldn't resist - I couldn't wait any longer, so I made my choice and I'm happy about it." [/private]
Additional comments will appear on Blue Devil Nation's Premium Message Board.  Talk about this article there.