[private]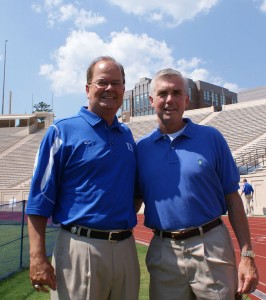 Coach Cutcliffe addressed the media today with the emphasis on changing the culture of Duke Football and asking the fans to be in the stands early.
Opening statements - We are going to have a Blue Out.  So, we want everybody to wear blue to the game.  We want to see a sea of blue in the stadium.
Just evaluating our team, there are three phases that have happened already.  There's winter conditioning, there is spring practice and summer conditioning work.  All three phases, we've gotten better.  Is it good enough?  I'm not saying that.  But we're at a point of being so far away, that we have miles to go before we sleep, so to speak.  The fourth phase is the season.  It's very obvious we are better as a team.  I can give some specifics.
We are much better in the kicking game.  Again, consider where we were!  So, much better is not good enough to this point in my opinion.  But we are much better!  Our punting, our place kicking ... our kickoff has been excellent.  I like our ability to be a good return team!  Our coverage has been much better than what it's been.  I think we can make some things happen.  I think we can block some kicks.
As far as throwing and catching the ball -- I was very concerned after spring practice.  They (team) struggled with that.  Our throwing and catching was really poor.  It has now reached the point where it is much better.  Again, it's a little too inconsistent than what I like, but I'm pleased with the progress.
One of the areas I'm most pleased with is the pass coverage.  I think our secondary has done a tremendous job at this point.  I hope it is an indication of them improving, not our receivers not being able to separate.  There has been a tremendous job done by Coach Jones and Coach MacIntyre in that regard.
Our tackling has been better.  You can't play good defense ... the scheme doesn't matter if you can't tackle.  Our tackling is not where it should be at this time, but it is better than any point in spring practice.  If I had to lift something quickly right now, I would pray for great tackling.
The biggest concern I have, although there is improvement are both fronts.  Our front on defense is much better, but I have a major concern about depth there.  The offensive line is the same thing.  There has been drastic improvement, but it's still not where it needs to be and the depth is horrendous at this point.
Overall, the thing that has helped us get better is better practice habits.  I knew the first time I saw this team that was an issue.  We sometimes try to revert back to 0-12, 1-11 habits.  That's what we're here for is to make them understand you practice with the same intensity and the same execution which never waivers and we lose focus.  Our jobs as coaches is to immediately correct that.  If we continue to do that through the season, by the time we get to November, we can be a good football team.  We are not the most talented team in the conference, but we need to be a good football team and if you are a good football team you can carry into the fourth quarter and win the game.
On the importance of a good showing on Saturday night ... Thank goodness there's expectations.  I like that.  Obviously I know of the importance of going out and playing well and people coming back.  The biggest challenge is to generate the interest have some expectations.  If you don't go in expecting to do well, you generally will not.
On changing the culture and the mentality of players -  We have them everyday since last January and we've made progress in that regard.  The thing we had to do was get the people enthused, get them in the stands, sell the stadium out.  There has been too much finger pointing when it comes to Duke Football.  We all have to take responsibility..  Our Administration has been a part of this and very supportive and they've declared that they want to change the culture of football at Duke and we are taking that serious.  I'm not going to be afraid to challenge people.  If it's not good enough on their end then I need to let them know.  They can be mad if they want, but we are serious about changing the football program.
Part 2 is coming soon. Pictured is Coach David Cutcliffe and new Athletic Director, Kevin White. (copyright BDNP)[/private]