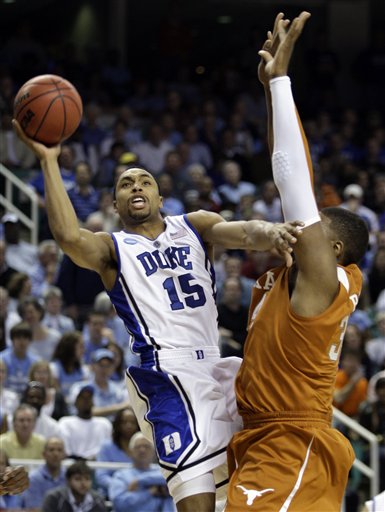 The Duke Blue Devils are Sweet 16 bound after holding on to a 74-69 victory over Texas on Saturday evening.   Duke made some big plays down the stretch, starting with a Kyle Singler tip in that gave the Devils a two point lead.
Shortly thereafter, Singler was called for his fifth foul with 1:07 left in the game.  Gary Johnson stepped to the line and sank two free throws to tie the game at 69 apiece.  On the other end, Nolan Smith scrapped for a rebound off a miss and was fouled.
Smith, who ended the game with 11 points and a team-high 3 assists, calmly drained both of his free throws to give Duke a 71-69 lead.
The Blue Devils then leaned on their defense and kept the Long Horns from scoring, thanks to an incredible save.  Jon Scheyer made a save in front of the Texas bench, making a backhanded pass with his left hand all in the same motion.  That save was an almost perfect toss down court and Elliot Williams battled for the ball and was fouled by Johnson.
While Williams missed the two free tosses, a mad scramble ended with the ball in Gerald Henderson's hands.  "G" was fouled as he attempted to get a pass off while on his knees and that allowed him to seal the game with two free throws to give Duke a 74-69 win.
Henderson had a game-high 24 points and 6 rebounds, and his play helped Duke push their season record to 30-6.
Kyle Singler chipped in with 17 points and 7 rebounds and Jon Scheyer added 13 points to go with 3 steals.
Oddly, the Blue Devils were out-rebounded and outscored by 12 points in the paint, not to mention their bench had just 13 points to the Horns 24.  Duke didn't even have a single point on the fast break, but they did what it takes to win.
One of those things was the fact that Duke protected the ball, making just 9 turnovers.  Duke was also solid from the free throw stripe, but hitting 7 of 14 three pointers could have been the key.
The Blue Devils also held A.J. Abrams in check, not to mention harassing Texas' three-point shooters and holding them to 5 of 22.
Duke will return to Durham before departing for Boston, Massachusetts where they will play Villanova to see which team will advance to the final eight game on Saturday.
Stay tuned for more on this game and the NCAA Tournament from Blue Devil Nation.  And yes, I got lucky with my pick of Duke 75-70, missing each team's score by a single point.  Everybody gets lucky every now and then.