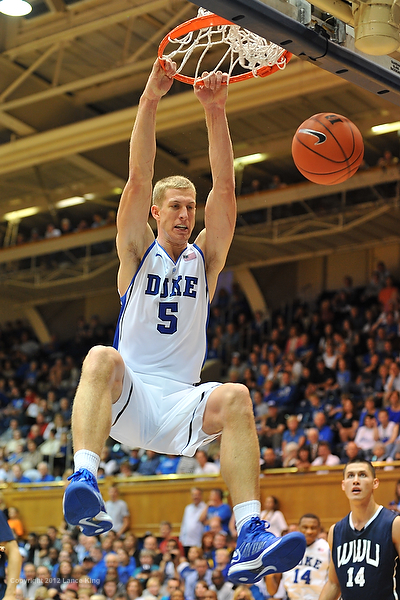 In their season opening exhibition game in Cameron Indoor Stadium on Saturday afternoon, the Duke Blue Devils defeated the Western Washington Vikings by a 105-87 score.
What a start for Rasheed Sulaimon!
The freshman looked like an old pro in his first outing, putting up 20 points, 3 assists, and 2 steals. Sulaimon is a player who lets the game come to him, so he got those numbers efficiently. If Duke can consistently get this type of effort from Sulaimon, he'll be hard to get out of the lineup -- even when Seth Curry returns.  Coach K said, "He had an unbelievable first half and it started with his first play.  We called a certain thing and he made a read that was the opposite of what that play was, and it was the right read.  And for a freshman on his first play to have the guts to make a read and follow his instincts, well, that's impressive to me."
Senior Captains live up to billing
Senior Co-Captains Mason Plumlee (22 points, 11 rebounds) and Ryan Kelly (22 points 4 assists) led the way in scoring for Duke. Plumlee's 11 boards were a team high as were Kelly's 4 assists. Both players showed off their experience and both showed leadership, each in his own way. Plumlee also went 6 of 8 from the free throw stripe, but later in the locker room still wanted to do better. Duke said the intention was to go to Mason more this year, and in this game he led the team with 14 shots, knocking down 8 of them. Kelly was an outstanding 7 of 7 from the free throw stripe.  Coach K on Kelly and Plumlee: "I thought they were okay in the first half but in the second, they played like really good players."
13-0 run sparked Duke
Coach Krzyzewski called a timeout with 6:22 to go in the half, at which time Duke held a 39-32 lead. Another timeout, this time from Western Washington, took place after the Blue Devils went on a 13-0 run, which helped them take a 54-39 lead into the half.  Coach K on the timeout: "I though we let up a bit and "boom," because they're good they took advantage of it.   I thought every time we came out of a timeout we executed exactly what we wanted and usually scored.  I liked that."
Amile Jefferson and Alex Murphy have nice debuts as well
True freshman Amile Jefferson scored 13 points on an efficient 5-7 shooting in his Cameron debut, while Alex Murphy tallied 6 points. Krzyzewski praised both in his post game press conference. Krzzyewski did say Jefferson left 4 points on the court but followed that up with an acknowledgement that he is learning.  Coach K on Amile:  "He's got the longest wing span on the team.  He has a 7'1" wing span.  When he starts moving well and playing like he did, there is a lot of length on the court."
Duke dominated from the free throw stripe
The Blue Devils got to the line 40 times, connecting on 31 of the attempts, while Western Washington had just 9 opportunities, connecting on 7 of them. Many of the calls that Duke got resulted from pushing the ball hard into the lane.
Important visitor
Jabari Parker and his family were visiting Duke today, and the Cameron Crazies were more than a little aware, holding up several signs along the way.  There were larger signs on campus but many were removed by Duke Compliance.  At the end of the half, Lola Parker walked over to see some pumpkins and take a picture.  The pumpkins spelled out "Jabari."  Parker is on crutches, still healing from a late summer injury.  For more thoughts on Parker and company, join BDN Premium, our subscription service, for full site access.
Recap
Duke is a work in progress.  But then again, every team in America is a work in progress in October.  Coach Krzyzewski seemed pleased with his team's opening game, and he said that the staff was still feeling the team out.  That process will continue as Duke takes on Winston-Salem State in another exhibition game on Thursday evening, also in Cameron.  It's hard to take much away from exhibition games, but considering how early we are, I thought Duke looked pretty good.  After a second viewing on Thursday, it should be easier to start forming educated opinions.  Coach K's opening statement to the media can be seen below.