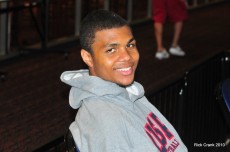 The North Carolina Pro Am has become a most popular event each summer in Durham and the main reason for that is fans get an early look at incoming freshman.  If you showed up for the event the first night Michael Gbinije played, you may have come away thinking he needed more work.
If you came away from the event after his last game, you would be singing his praises for he dropped 28 points on his opponent.  The problem is that in an All Star like atmosphere he sometimes defers in that Gbinije is the consummate team player.
"I wasn't happy with my performance last time out.  My performance was not up to par, so I came in motivated tonight looking for more opportunities to show off my game," said Gbinije.
Those who've  followed Gbinije on the AAU circuit where he suited up for Team Takeover know that Gbinije does not seek out attention.  He is a quiet kid, hard to read at first but once comfortable he let's go with a warm smile that shows another side of him.
Gbinije has the potential to be a coaches dream in that he is a low maintenance type of player.  That basically means he does not have to be coddled and he shows no signs of a bad attitude and beams in to what he is being told by the staff.
If there was ever a player on an even keel, it is Gbinije.  He is quiet not only on the court but off the court.  In fact, he is downright shy and that is something he is working on but his last outing produced a "loud game."
"The coaches want me to be more vocal out there, so I am working on that," said Gbinije.  Those same sentiments were made by a coach as well during a recent AAU event.
While Gbinije deferred in his first game at the Pro Am, he was more than aggressive the last time out and he showed off what he can do.  Gbinije is a steady player that does everything well and he showed that he can score the ball.
Gbinije is a good position defender as well and fits in nicely when on the court.  He is not a power guy but he is an effective rebounder when he does hit the boards and is comfortable in transition.
The Virginia native said that practice had been intense.  Duke, of course, gets ten full practice before taking off for China and Dubai in August.  A source close to the situation told BDN that Gbinije  was looking good in practice and that he was a quick learner.
Don't expect Gbinije to knock down 28 points in an ACC game this season for the competition is much tougher and the matador defense which is prevalent at the Pro Am will no longer be in effect.  But Duke fans will probably be pleasantly surprised when they see his game this coming season.
"I just wanted to show what I could do," said Gbinije as he warmed to the questions.  Make no mistake, Gbinije has been told to play at Duke, he must be a better communicator on the court.  Master that and the young man from Virginia should earn some valuable minutes as a true freshman.
BDN updates live from the N.C. Pro Am via our @BlueDevilNation twitter site and for members of BDN Premium on the message board.