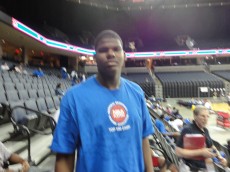 Charlottesville -
BDN is on hand for the NBA Top 100 Camp on the campus of the University of Virginia and we'll bring you updates on our message board all weekend long.  We are focused in on key Duke prospects and have a lot of cool stuff coming members' way.  Here are the stats and recaps from the morning session.  For more detailed analysis, join BDN Premium for full site access. 
THURSDAY MORNING RECAPS
Lakers 71
Spurs 68
Ryan Arcidiacono led a low scoring affair with 11 points and watched as Gabe York's game-tying attempt sailed short and the Lakers edged past a tough Spurs squad 71-68 in the opening game of the 2011 NBPA Top 100 Camp this morning. Zena Edosomwan added 10 points in the close victory. George Niang, Brandon Bolden and Anton Gill finished with 11 points each and Jordan Tebbutt added 10.
Grizzlies 96
Mavericks 78
The Grizzlies, led by 6 players in double digits, defeated the Mavericks 96-78. J.P. Tokoto led the Grizzlies in scoring with 14 points. He was followed very closely by Evan Nolte and Daniel Ochefu with 12 each, Anthony Bennett and Terry Henderson with 11 each, and Adam Woodbury with 10. T.J. Warren led all scorers with 17 points for the Mavericks in the loss. Amile Jefferson added 16 and Marcus Hunt contributed 13.
Heat 89
Bulls 76
Chicken Knowles led with 15 points as the Heat blistered the Bulls 89-76 in opening day action at the NBPA Top 100 Camp. Justin Anderson added 14 points while Jabari Bird and Ricardo Gathers finished with 10 points apiece for the victors. Omar Calhoun and Jordan Adams finished with 14 points each for the Bulls in the tough loss. Brice Johnson added 12 and Montrezl Harrell finished with 10 in the loss.
Celtics 91
Thunder 86
The Celtics came out like a ball of fire scoring the game's first 17 points, and then withstood a furious Thunder rally to come away with a 91-86 victory. Jerome Hairston led a crew of four teammates in double digits with 17. Joining him in the scoring column were Jordan Price with 14, A.J. Davis with 13 and Robert Carter with 12. Tyler Lewis led all scorers in the game with 19 points for Thunder. Danuel House added 15, Nate Britt 14 and Jordan Burgess 13 in the close loss.
Magic 101
Hawks 73
The Magic placed five players in double digits as they vanquished the Hawks 101-73 in the morning session's final contest. Codi Miller-McIntyre was outstanding, scoring 16 points and controlling the tempo of the game throughout. Devonta Pollard added 15 points while Katin Reinhardt finished with 13, Denzel Valentine managed 12 and Yogi Ferrell added 11 in the convincing victory. Joell James led the Hawks with 13 points followed closely by Gavin Ware and Mitch McGary with 12. Michael Frazier added 10 in the loss.
| | | | | |
| --- | --- | --- | --- | --- |
| # | Name | Year | Team | Game 1 |
| 3 | Tyler Lewis | 2012 | Thunder | 19 |
| 7 | Jerome Hairston | 2012 | Celtics | 17 |
| 73 | T.J. Warren | 2012 | Mavericks | 17 |
| 23 | Codi Miller-McIntyre | 2012 | Magic | 16 |
| 84 | Amile Jefferson | 2012 | Mavericks | 16 |
| 42 | Danuel House | 2012 | Thunder | 15 |
| 83 | Devonta Pollard | 2012 | Magic | 15 |
| 78 | Chicken Knowles | 2012 | Heat | 15 |
| 47 | Jordan Price | 2012 | Celtics | 14 |
| 15 | Jordan Adams | 2012 | Bulls | 14 |
| 44 | Omar Calhoun | 2012 | Bulls | 14 |
| 5 | Nate Britt | 2013 | Thunder | 14 |
| 9 | J.P. Tokoto | 2012 | Grizzlies | 14 |
| 51 | Justin Anderson | 2012 | Heat | 14 |
| 86 | A.J. Davis | 2013 | Celtics | 13 |
| 8 | Jordan Burgess | 2012 | Thunder | 13 |
| 109 | Joell James | 2012 | Hawks | 13 |
| 35 | Katin Reinhardt | 2012 | Magic | 13 |
| 60 | Marcus Hunt | 2012 | Mavericks | 13 |
| 53 | Robert Carter | 2012 | Celtics | 12 |
| 21 | Brice Johnson | 2012 | Bulls | 12 |
| 63 | Mitch McGary | 2012 | Hawks | 12 |
| 103 | Gavin Ware | 2012 | Hawks | 12 |
| 48 | Denzel Valentine | 2012 | Magic | 12 |
| 66 | Steve Taylor | 2012 | Grizzlies | 12 |
| 67 | Daniel Ochefu | 2012 | Grizzlies | 12 |
| 2 | Yogi Ferrell | 2012 | Magic | 11 |
| 33 | Anthony Bennett | 2012 | Grizzlies | 11 |
| 22 | Terry Henderson | 2012 | Grizzlies | 11 |
| 38 | Ryan Arcidiacono | 2012 | Spurs | 11 |
| 65 | George Niang | 2012 | Lakers | 11 |
| 75 | Brando Bolden | 2012 | Lakers | 11 |
| 88 | Anton Gill | 2013 | Lakers | 11 |
| 57 | Montrezl Harrell | 2012 | Bulls | 10 |