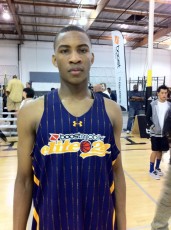 While there was a boat load of Duke recruits this week in L.A for the Boost Mobile Elite 24 there was only one Duke commit, 2012 Rasheed Sulaimon. Rasheed started out the event with a solid performance vs. the pro's on Wednesday night where he showed his solid 3 point shot as well as his active hands on defense. There was no backing down from the rising senior as he effectively showed everyone why he is rated as high as he is. Rasheed continued his hot shooting into the practice where he was easily a top 3 player on the court at all times. Sulaimon also showed great athleticism over the week with numerous high flying dunks as well as great lateral quickness which will help him on defense in the future. It isn't very hard to see why scouts have him rated so high and once again the Blue Devils pulled in one of the best guards in the class. Rasheed was kind enough to take a few minutes and speak with BDN on his time at the Elite 24 (Note- We are currently running a one week special on memberships which is 15% off the yearly rate.  Other options discounted as well.)
BDN: What's this experience been like getting to play with the pro's?
RS: It's just been a great experience you know. Coming out here and competing with top notch guys like Kemba Walker who won a championship last year, Brandon Jennings who had 55 points his rookie year, Tyreke Evans, and the list goes on and on. Just to be on the same court as these guys it's truly an honor and we just try to come out here and compete as best as you can and it's just a really [private]fun experience.
BDN: What do you think separates them from where you are?
RS: I think it's just the mentality. They have the killer mentality all the time and that is one thing us youth have to grasp if we want to make it to the next level. Also their bodies and size, you know they're 6'5 as a two-guard. You know these are all things we can work on.
BDN: What do you have to do to get there?
RS: You know just keep working every day, staying in the gym, staying humble, staying hungry, continue to get stronger and faster and improve on my skills each and every day. If I stay healthy and keep working, you know in the future I might have a chance.
BDN: When you're on the court is there anybody better than you?
RS: (laughs) You know, you have to have that mindset. I have a lot of respect for guys but when you're on the court you gotta compete and you gotta have that mindset that nobody can stop you, otherwise you know you're going to have fear and that's not good for playing basketball. Of course you gotta have that mindset but at the same time you have to respect.
BDN: Over the summer you obviously build some relationships, has there been any new ones this year?
RS: You know, a lot of these guys I grew up with so we just keep in touch a lot. I think maybe one guy that I developed a really good relationship with is Anthony Bennett from Canada. He was on my team at Lebron and NBA Camp and we became really good friends.
BDN: Have you been able to catch any of the Duke games in China at all?
RS: Yea I have. Actually I DVR'd and watched them. You know they (smiling), it's early in the season and they showed a lot of growth in the few games they've played so far and they've really been playing well.
BDN: Have you been in contact with any of the coaches while they've been gone?
RS: Yea I called Coach K a couple of times and it was kind of hard because of the signal but we got in touch and we just talked a little bit, and talked about how they're playing and everything like that.
BDN: You'll eventually be taking an official visit, have you set a date yet?
RS: As of right now I'm not sure but I'm looking probably to make it before the season starts.
BDN: You know I've got to ask this, have you been making any progress on the recruiting trail?
RS: (laughing) Yea I know that's the hot topic right now especially on Twitter, and you know there's a lot of Duke recruits here like Tony Parker and Shabazz. I'm continuing to talk to them and trying the best that I can to come to Duke with me.
BDN: Who was the hardest pro you got to play with this week?
RS: It's probably between Brandon Jennings and Kemba Walker.
BDN: What was difficult about that?
RS: Well they are lightning quick, ball handling, they got the ball on a string, they can make any shot and make any move. With those guys you can't really give them too much space and if you do they are just gonna destroy you.
BDN: Are they faster than on TV?
RS: (laughing) Oh shoot! They are WAY faster!
BDN: Thanks for your time Rasheed.
RS: Oh no problem man. [/private]