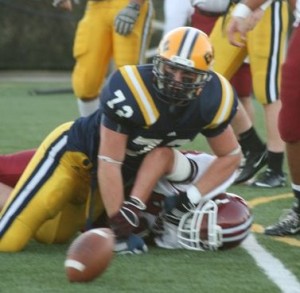 In just three-plus years in Durham Head Coach David Cutcliffe and Offensive Line Coach Matt Luke have built the Blue Devil offensive line into one of the best units in the Atlantic Coast Conference. The Duke offensive line now ranks near the top of the ACC in sacks per pass attempt, and the Blue Devil running game continues to improve each year. The successes up front have been the result of tireless work in the weight room, on the practice field, and on the recruiting trail. In the past two recruiting classes, Duke has brought in a group of impressive blockers, led by Laken Tomlinson, Tacoby Cofield, Marcus Aprahamian, and Cody Robinson. In the class of 2012, Duke is engaged in an intense recruiting battle for one of the top linemen in the country in Eric Olson. Olson is an incredibly athletic 6'6" 265 pound prospect from Cambridge, Massachusetts. He attends one of the top schools in New England in Buckingham Browne & Nichols, and academics will weigh heavily into his decision. After a busy spring of visits, Eric is preparing to make his college decision between Duke, Virginia, Boston College, Northwestern, and Michigan.
BDN: Can you start off by describing your strengths as a player?
All the coaches tell me the favorite thing they see on my film is my effort. Every single block, if you watch my film, I pretty much take the kid to the ground. The other main thing is my length and athleticism, I'm all of 6'6" and actually grew up as a basketball player, so I've got pretty good feet out there on the edge, you know pass blocking is pretty similar to playing man-to-man defense. Moving my feet, using my long arms as well as explosion and athleticism, bringing the guy to the ground, all that stuff.
BDN: What are you hoping to accomplish in your senior year?
Win a league title, first and foremost. Win a New England Championship, league title, we know we've got a great group of guys coming back. I'm a captain for next year and I think we can really do some special things. This summer I'm looking to put on maybe 10 more pounds of muscle while keeping the same athleticism and foot speed. I'm working out at a football complex, so I should be able to accomplish that, I'm hoping to play next year at maybe 280 or 275.
BDN: What are the most important things you are looking for in a college?
Definitely for me it's football, academics, and the people associated with the program. Football speaks for itself, you want a team that's doing well, a team that's got support within the community. Academics are a huge factor to me, as you can see in my top couple schools. Football's not forever, NFL doesn't last for long if it even does happen, so you need something to go back on, something that prepares you for the rest of your life. And also just the people associated with the program, the kids, the players and all the coaches. You're going to be spending so much time with them, if you don't like them then you're going to be miserable. I've been really careful with my visits to try and get around as many people as I can, for me that's really important.
BDN: You mentioned obviously your top schools. How did you narrow things down to these schools or what set them apart for you?
I kind of narrowed down my list as far as academics. Schools would come into my school and I would tell them I'm not really interested. That was a big point, I eliminated the schools I wasn't really interested in from an academic standpoint. Then when I had the list of schools I was interested in, I went on my visits and my favorite coaches, campuses, and all my visits I just really loved all the ACC schools on my list. I just loved them absolutely all, I got a great feeling when I was on campus and that's just how I narrowed it down.
BDN: Can you talk a little bit about the ACC schools and what specifically stood out to you about each of them?
I'll start out close to home with BC, they were the first school to start recruiting me, they have been recruiting me for awhile now, and I've built up a really good relationship with Coach John Devine, the Offensive Line Coach at BC. He happens to recruits my area and he happens to coach my position. He's been in and out of my school so many different times. I've talked to him a ton, went to camp last year there, met with him a bunch. I've worked with him, he's coached me. I've got a great relationship with him, obviously it's close to home, which is nice, but it's not a deciding factor for me, but it has some positives to it. It's a great school academically and I know a couple kids on the team.
For Virginia, when I was on campus the feeling I got was just unbelievable. It's such an unbelievable place, it's so historic and the grounds are unbelievable, it's like a country club walking around. Coach Reed, who's the defensive coordinator, was also one fo the first coaches to start recruiting me as well. When I met with Coach London, he's a pretty unbelievable guy as well, he's pretty passionate about his players and seems to really care for everyone. That's definitely a positive. On my overnight, I absolutely loved the kids, the kids were great, I had a great time with them, I definitely fit in with them.
For Duke, I grew up as a Duke basketball fan and it's just so cool getting to be down there. It's also an unbelievable place. The whole campus is pretty unbelievable, it's such a great school, it's one of the top ten schools in the country academically which obviously speaks for itself. Coach Cut is doing great things with the program, he's really got a vision in mind to turn things around. Not only does he have a vision, he has a plan, you know they're building a new stadium, building a new indoor facility. Their recruiting classes just keep getting better and better and their win total keeps going up and up. That's a program that's definitely on the rise and with such good academics it's definitely a good package.
BDN: Obviously you're also considering a couple Midwest schools in Northwestern and Michigan, and I'm sure your visits went well there also.
Yeah definitely.
BDN: All of your finalists are such great schools and you really can't go wrong, but how do you plan on narrowing it down and making your decision?
I've just been talking a bunch with my parents, just remembering back to my visits. We put some things down on paper on my visits. Now we're starting to actually make a list of ranking the schools in certain things and weighing them as far as what's most important to me. Whatever school comes out on top, and if a certain school comes out on top and it doesn't feel right, then I say I don't know if that's a school that I want to go, but if a certain school does come out on top and it feels right, then I'm like that's the place.
BDN: When are you hoping to make your final decision?
Definitely soon. I don't have an exact timetable, whenever it feels right to be honest. It could be tomorrow, it could be in three weeks. As soon as possible, but I don't want to rush it.
BDN: Thanks a lot, Eric, and best of luck to you.
Awesome, thank you so much.