Browse:
Home
/
Georgia Tech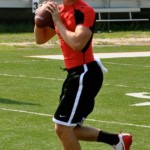 By Patrick Cacchio on June 23, 2011
Though he admittedly dislikes the label, Duke Head Coach David Cutcliffe is known in football circles as a quarterback guru. Having mentored both Peyton and Eli Manning (who worked out at Duke on Wednesday), along with several other top collegiate signal-callers, Coach Cut's reputation is well-deserved. At Duke, he has continued to develop outstanding quarterbacks, [...]
Posted in BDN Premium Articles, Duke Football | Tagged Baker County Football, BDN Football, BDN Premium, Blue Devil Nation, Coach Cutcliffe, David Cutcliffe, David Cutcliffe QB, David Morris, David Morris Coach, David Morris QB, Duke QB, Eli Manning, Florida, Florida HS Football, Florida QB, Florida State, Georgia Tech, Miami, Ole Miss, Peyton Manning, Quarterback guru, Tennessee, Thomas Sirk, Thomas Sirk football, Thomas Sirk QB, Troy, Vanderbilt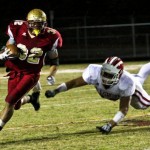 By Patrick Cacchio on April 26, 2011
After the emergence of young stars Desmond Scott, Josh Snead, and Juwan Thompson in 2010, the Blue Devils are looking for their next great back in the class of 2012. The Duke staff has been aggressive in recruiting elite running backs, including an offer to Georgia standout Nick Tompkins. Tompkins is a 5'10" 175 pound [...]
Posted in Duke Football | Tagged 2012 Duke Football Recruiting, 2012 Running Back Prospect, ACC Football Recruiting, Arkansas, BDN Football, Boston College, Brookwood Football, Clemson, Duke Football, Duke Running Back, Football Recruiting News, Georgia Tech, Maryland, Mississippi State, Nick Tompkins, Ole Miss, Patrick Cacchio, Virginia
By Patrick Cacchio on April 25, 2011
After finishing last in the ACC in sacks and rushing defense in 2010, Duke hopes to upgrade the defensive front in 2011 with a group of young linemen. While the fate of the 2011 Blue Devil defense rests with Coach Knowles and the players already on campus, the Duke staff continues to work the recruiting [...]
Posted in Duke Football | Tagged 2012 Defensive End Prospect, 2012 Defensive Line Prospect, Auburn, BDN Football, Blue Devil Nation, David Cutcliffe, Duke Football, Football Recruiting News, Georgia Tech, Jim Knowles, Opelika Football, Rick Petri, South Alabama, Tommie Agee, Torey Agee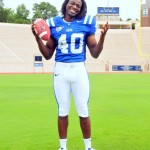 By Patrick Cacchio on April 15, 2011
It's Friday afternoon, which can only mean one thing – Football Friday! This week, we take a look at Duke's 2011 ACC opponents spring practices along with some recruiting updates.
Posted in BDN Premium Articles, Duke Football | Tagged ACC 2011, ACC Spring Football, Albert Reid, Allen Jackson, Andrew Jelks, Bart Houston, BDN Football Friday, Bilal Marshall, Blue Devil Nation Premium, Boston College, Carlos Wray, Casey Cochran, D.J. Humphries, D.J. Reader, Dami Ayoola, Dan Beilinson, Darius Powe, Deion Williams, Desmond Frye, Dondre Brown, Dontonio Jordan, Duke Football, Duke Football 2012 Recruiting, Dwayne Norman, Eric Olson, Erich Schneider, Evan Baylis, Florida State, Football Friday, Football Recruiting News, Georgia Tech, Jared Crump, Jay Jay McCullough, Jordan Watkins, Justin Johnson, Keilin Rayner, Keith Marshall, Kent Taylor, Korren Kirven, Lott IMPACT, Mark Harrell, Matt Daniels, Matt Johnson, Max McCaffrey, Max Tuerk, Miami, Michael Summers, Nelson Agholor, Nick Tompkins, North Carolina, P.J. Harris, Patrick Cacchio, Patrick DeStefano, Ron Geohaghan, Todd Gurley, Virginia, Virginia Tech
By Patrick Cacchio on March 28, 2011
While Duke is working hard to improve their defense on the field this spring, the coaching staff is also working hard to upgrade the defense with a talented group of prospects in the class of 2012. Several defensive line prospects have received verbal scholarship offers from the Blue Devils, including one of the top prospects [...]
Posted in Duke Football | Tagged 2012 Defensive End Prospect, ACC Football Recruiting, Alabama, Auburn, BDN Football, Blue Devil Nation, Duke Football, Football Recruiting News, Georgia Tech, Jordan Watkins, Patrick Cacchio, SEC Football Recruiting, Tennessee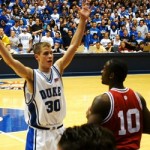 By Bob Green on February 2, 2010
#10 Duke (17-4, 5-2) hosts #21 Georgia Tech (16-5, 4-3) on Thursday February 4, 2010 as the Blue Devils and Yellow Jackets face each other for the second time this season. Georgia Tech prevailed 71-67 in the first game, which was played at Alexander Memorial Coliseum, in Atlanta. The Blue Devils will be looking to [...]
Posted in Duke Basketball | Tagged Coach Krzyzewski, Derrick Favors, Gani Lawal, Georgia Tech, Jon Scheyer, Kyle Singler, Nolan Smith, Paul Hewitt